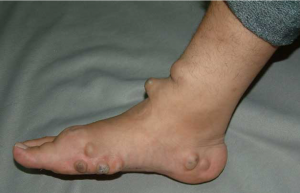 Correct Answer:  C: Careful follow up to monitor for malignant transformation, including possible imaging and biopsy in the future
Explanation:  Maffucci syndrome is a rare genetic condition. Clinically, it is characterized by superficial and deep vascular lesions and endochondromas. The 'vascular lesions can be unilateral or bilateral' and found on the hands and feet. Endochondromas are benign cartilaginous growths.  About 30% of endochondromas undergo malignant transformation to chondrosarcoma. Continued surveillance of these lesions in concert with orthopedic surgery is necessary.
Don't Agree? Tell us why in the comments section below.