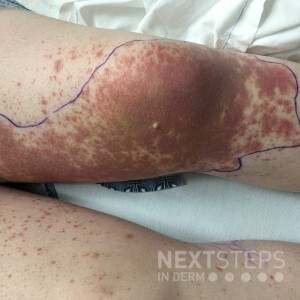 The correct answer is D. The correct answer is cryoglobulin screen.
The correct answer is cryoglobulin screen. Although one may obtain all of the answer choices above in a patient presenting with purpuric papules (palpable purpura), cryoglobulin screen is the best answer. Mixed cryoglobulinemia should be high on the differentials in patients with known hepatitis C (HCV) presenting with purpura on the extremities. There are 3 types of cryoglobulinemia, type I (monoclonal), type II (monoclonal+polyclonal) and type III (polyclonal+polyclonal); type II and III are considered mixed cryo and is from chronic HCV infection in >80% of cases. Mixed cryo may present as palpable purpura and retiform purpura, representing the involvement of both small and medium vessels.
CBC with differentials would be useful if eosinophilic granulomatosis with polyangiitis (EGPA) was being considered – these patients would report a history of atopy, asthma, and allergic rhinitis. ANA screen is commonly checked in suspected vasculitis cases as connective tissue diseases are associated with small vessel vasculitis, however, in this vignette, purpura in the setting of HCV favors mixed cryoglobulinemia over CTD-associated vasculitis. ANCA serologies are useful in the evaluation of suspected ANCA-associated vasculitides (AAV) such as granulomatosis with polyangiitis (GPA), EGPA or microscopic polyangiitis (MPA). Notable findings in GPA include nasal destruction/saddle nose deformity, friable micropapular red gingiva, subcutaneous nodules, palpable purpura and pyoderma gangrenosum-like ulcers. AAV has also been reported in medications (levamisole, hydralazine, minocycline, propylthiouracil, methimazole). ESR is a non-specific marker of inflammation and would be of low diagnostic yield.
References:
Georgesen C, Fox LP, Harp J. Retiform purpura: Workup and therapeutic considerations in select conditions. J Am Acad Dermatol. 2020;82(4):799-816.
Frankel, A.H., Singer, D.R., Winearls, C.G., Evans, D.J., Rees, A.J., & Pusey, C.D. (1992). Type II essential mixed cryoglobulinaemia: presentation, treatment and outcome in 13 patients. The Quarterly journal of medicine, 82 298, 101-24.