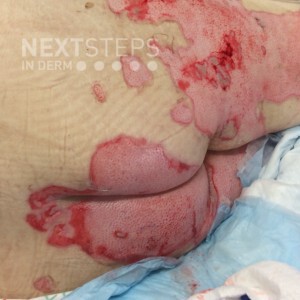 The correct answer is D. Autoantibody titers correlate with disease activity.
IIF positivity for IgG antibodies directed against monkey esophagus is diagnostic of pemphigus vulgaris (PV). Autoantibody titers correlate with PV disease activity and can be monitored to assess response to therapy. It is important to keep in mind that DIF biopsies may be falsely-negative in PV, so IIF studies are important in the diagnostic approach.
The primary target antigen in PV is desmoglein 3 > 1. Paraneoplastic pemphigus (PNP) is associated with bronchiolitis obliterans, and a positive DIF would show intercellular and linear IgG & C3 along the BMZ. The best IIF substrate for PNP is rat bladder transitional epithelium. Lastly, rituximab is FDA-approved for the treatment of pemphigus vulgaris.
References:
PMID: 31498102
Brought to you by our Brand Partner