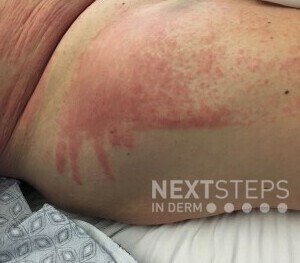 The correct answer is A. Allergic contact dermatitis to a soap or other topical application.
The sharp demarcation and linear almost "dripping" of the proximal aspect of the dermatitis suggest an allergic contact dermatitis particularly to a topical application. Often stronger steroids than a 1% hydrocortisone are needed.
Irritant contact dermatitis is less pruritic, and less well-demarcated. Allergic dermatitis to a metal and psoriasis both will not be as well-demarcated and geometric. A phototoxic drug eruption could unlikely be on the hip and nowhere else, and is unlikely to have that "dripping" seen.
References:
Bolognia, Jean., Jorizzo, Joseph L.Schaffer, Julie V. (Eds.) (2012) "Allergic Contact Dermatitis." Dermatology /[Philadelphia] : Elsevier Saunders.