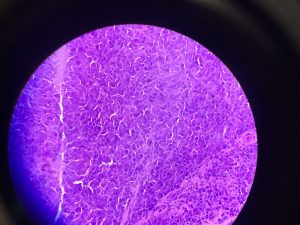 Correct Answer: A.
Explanation: Merkel cell carcinoma stains positive with neuron-specific enolase, epithelial membrane antigen, CD56, neurofilament, synaptophysin, chromogranin, argyrophil. The most widely and accepted marker is CK20 (perinuclear dot staining), and CK8/18/19 (CAM 5.2) is another uniformly good choice. However, CD56 is more intensely positive (cell membrane staining).
Test your knowledge with custom quizzes at Derm In-Review or check out more pop quizzes.
Reference:  Rapini. Practical dermatopathology. 2nd ed. Ch 26. Kurokawa et al. J Dermatol Sci. 2003 May. PMID 12727026.
Brought to you by our Brand Partner