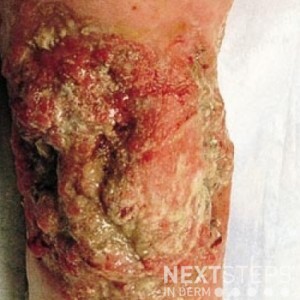 The correct answer is B. PD-1 receptor on T cells.
This squamous cell carcinoma could have been treated by cemiplimab or Pembrolizumab. Both are PD-1 inhibitors, targeting the PD-1 receptor that is located on T cells.
The other responses are incorrect targets for this condition.
References:
Migden MR, Rischin D, Schmults CD, Guminski A, Hauschild A, Lewis KD, Chung CH, Hernandez-Aya L, Lim AM, Chang ALS, Rabinowits G, Thai AA, Dunn LA, Hughes BGM, Khushalani NI, Modi B, Schadendorf D, Gao B, Seebach F, Li S, Li J, Mathias M, Booth J, Mohan K, Stankevich E, Babiker HM, Brana I, Gil-Martin M, Homsi J, Johnson ML, Moreno V, Niu J, Owonikoko TK, Papadopoulos KP, Yancopoulos GD, Lowy I, Fury MG. PD-1 Blockade with Cemiplimab in Advanced Cutaneous Squamous-Cell Carcinoma. N Engl J Med. 2018 Jul 26;379(4):341-351. doi: 10.1056/NEJMoa1805131. Epub 2018 Jun 4. PMID: 29863979.