DUPIXENT® (dupilumab) A Novel Treatment For Patients (≥6 Years of Age) With Uncontrolled Moderate-to-Severe Atopic Dermatitis followed by Patient Cases
First and only biologic approved in AD
Tuesday, December 15, 2020 7:00 PM – 8:00 PM EDT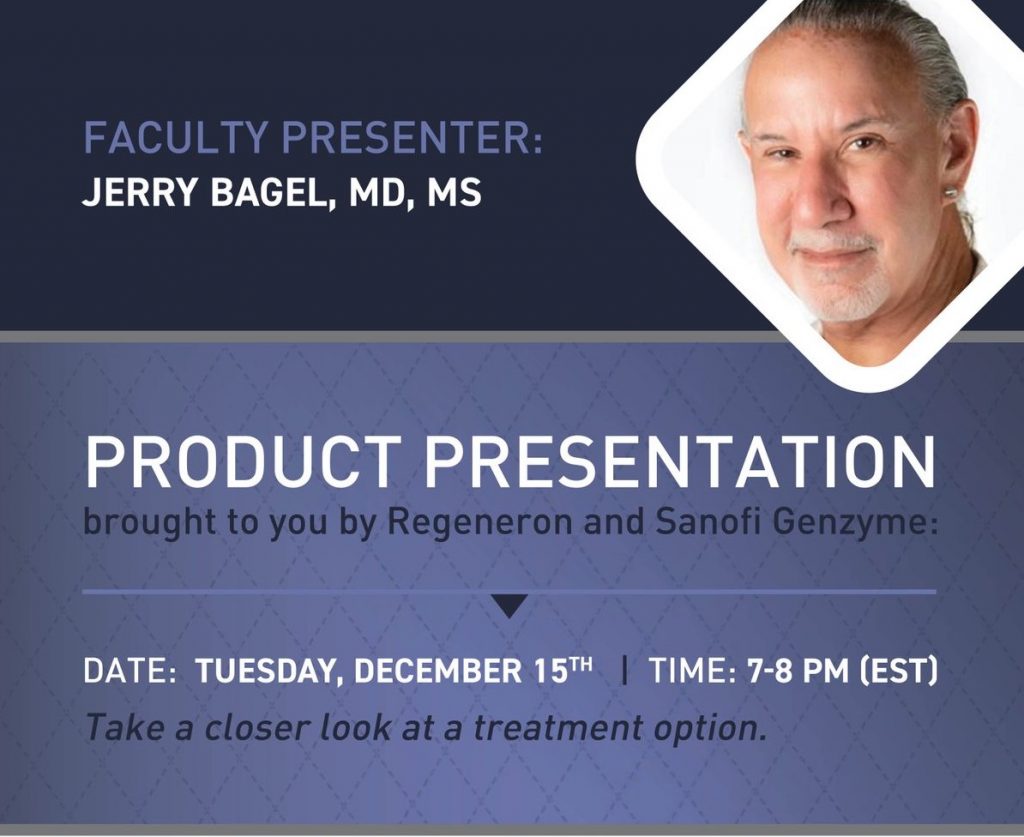 INDICATION AND IMPORTANT SAFETY INFORMATION
DUPIXENT is indicated for the treatment of patients aged 6 years and older with moderate-to-severe atopic dermatitis whose disease is not adequately controlled with topical prescription therapies or when those therapies are not advisable. DUPIXENT can be used with or without topical corticosteroids.
IMPORTANT SAFETY INFORMATION 
CONTRAINDICATION
DUPIXENT is contraindicated in patients with known hypersensitivity to dupilumab or any of its excipients.
Please see additional Important Safety Information and link to the full Prescribing Information below.
Please join us for a presentation on DUPIXENT® (dupilumab) A Novel Treatment For Patients (≥6 Years of Age) With Uncontrolled Moderate-to-Severe Atopic Dermatitis followed by Patient Cases.
FACULTY PRESENTER
Jerry Bagel, MD, MS
Director, Eczema Treatment Center of New Jersey
Clinical Professor of Dermatology
Icahn School of Medicine at Mt Sinai
New York, New York
IMPORTANT SAFETY INFORMATION CONT'D
WARNINGS AND PRECAUTIONS
Hypersensitivity: Hypersensitivity reactions, including generalized urticaria, rash, erythema nodosum, anaphylaxis, serum sickness or serum sickness-like reactions, and angioedema have been reported. If a clinically significant hypersensitivity reaction occurs, institute appropriate therapy and discontinue DUPIXENT.
Conjunctivitis and Keratitis: Conjunctivitis and keratitis occurred more frequently in atopic dermatitis subjects who received DUPIXENT. Conjunctivitis was the most frequently reported eye disorder. Most subjects with conjunctivitis or keratitis recovered or were recovering during the treatment period. Advise patients to report new onset or worsening eye symptoms to their healthcare provider
Reduction of Corticosteroid Dosage: Do not discontinue systemic, topical or inhaled corticosteroids abruptly upon initiation with DUPIXENT. Reductions in corticosteroid dose, if appropriate, should be gradual and performed under the direct supervision of a physician. Reduction in corticosteroid dose may be associated with systemic withdrawal symptoms and/or unmask conditions previously suppressed by systemic corticosteroid therapy.
Atopic Dermatitis Patients with Comorbid Asthma: Advise patients not to adjust or stop their asthma treatments without consultation with their physicians.
Parasitic (Helminth) Infections: It is unknown if DUPIXENT will influence the immune response against helminth infections. Treat patients with pre-existing helminth infections before initiating therapy with DUPIXENT. If patients become infected while receiving treatment with DUPIXENT and do not respond to anti-helminth treatment, discontinue treatment with DUPIXENT until the infection resolves.
ADVERSE REACTIONS: The most common adverse reactions (incidence ≥1% at Week 16) in adult patients with atopic dermatitis are injection site reactions, conjunctivitis, blepharitis, oral herpes, keratitis, eye pruritus, other herpes simplex virus infection, and dry eye. The safety profile in children and adolescents through Week 16 was similar to that of adults with atopic dermatitis. In an open-label extension study, the long-term safety profile of DUPIXENT in adolescents and children observed through Week 52 was consistent with that seen in adults with atopic dermatitis.
DRUG INTERACTIONS: Avoid use of live vaccines in patients treated with DUPIXENT.
USE IN SPECIFIC POPULATIONS
Pregnancy: There is a pregnancy exposure registry that monitors pregnancy outcomes in women exposed to DUPIXENT during pregnancy. Healthcare providers and patients may call 1 – 877-311-8972 or go to https://mothertobaby.org/ongoing-study/dupixent/

to enroll in or obtain information about the registry. Available data from case reports and case series with DUPIXENT use in pregnant women have not identified a drug-associated risk of major birth defects, miscarriage or adverse maternal or fetal outcomes. Human IgG antibodies are known to cross the placental barrier; therefore, DUPIXENT may be transmitted from the mother to the developing fetus.
Lactation: There are no data on the presence of DUPIXENT in human milk, the effects on the breastfed infant, or the effects on milk production. Maternal IgG is known to be present in human milk. The developmental and health benefits of breastfeeding should be considered along with the mother's clinical need for DUPIXENT and any potential adverse effects on the breastfed child from DUPIXENT or from the underlying maternal condition.
Please see accompanying full  Prescribing Information



This webinar will be open to the first 500 participants who join the webinar.
©2020 Sanofi and Regeneron Pharmaceuticals, Inc.    All Rights Reserved.          11/2020        DUP.20.10.0169