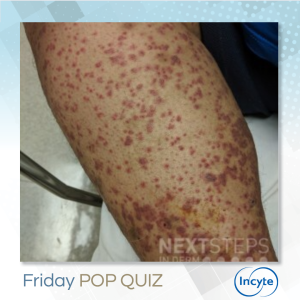 The correct answer is B. Urinalysis (U/A).
The clinical presentation is most consistent with a small vessel vasculitis. Palpable purpura of the lower extremities, arthralgias and abdominal pain suggest IgA vasculitis (IgAV). According to the European Alliance of Associations for Rheumatology (EULAR) criteria, purpura or petechiae with lower limb predominance not related to thrombocytopenia is mandatory for IgAV diagnosis; the additional finding of abdominal pain or arthralgia yields a sensitivity of 100% and a specificity of 87%. Compared to pediatric IgAV, adult IgAV patients are more likely to experience relapses and recalcitrant disease, especially those with renal manifestations. Adults tend to have more severe IgA nephropathy (IgAN) with lower remission rates. Therefore, in adults with suspected IgAV, U/A should be ordered to evaluate for hematuria and proteinuria.
While ibuprofen can be used to treat arthralgias, renal manifestation should be ruled-out before starting medications that can compromise renal function. CBC may help evaluate petechiae/purpura in the setting of suspected thrombocytopenia, but CMP results will not help evaluate for nephropathy. The clinical vignette does not suggest that the patient is septic, therefore, antimicrobials would not be appropriate; moreover, the most common drug associated with drug-induced IgAV is beta-lactams. The clinical picture is not consistent with an infectious disease process.
References: Kelly BG, Stratton DB, Mansour I, Tanriover B, Culpepper KS, Curiel-Lewandrowski C. Navigating the initial diagnosis and management of adult IgA vasculitis: A review. JAAD Int. 2022;8:71-78. Published 2022 Jun 13. doi:10.1016/j.jdin.2022.05.004
Poterucha TJ, Wetter DA, Gibson LE, Camilleri MJ, Lohse CM. Correlates of systemic disease in adult Henoch-Schönlein purpura: a retrospective study of direct immunofluorescence and skin lesion distribution in 87 patients at Mayo Clinic. J Am Acad Dermatol. 2012;67(4):612-616
Nossent J, Raymond W, Isobel Keen H, Preen D, Inderjeeth C. Morbidity and mortality in adult-onset IgA vasculitis: a long-term population-based cohort study. Rheumatology (Oxford). 2021;61(1):291-298. doi:10.1093/rheumatology/keab312