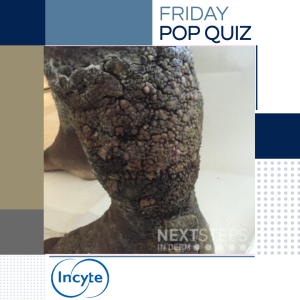 The correct answer is B. Elephantiasis nostras verrucosa.
Elephantiasis nostras verrucosa is a complication of chronic lymphedema. It commonly affects the distal feet and lower extremities leading to verrucous changes with papillomatosis and hyperkeratosis.
None of the other options have images consistent with the shown image. Lipodermatosclerosis, pigmented purpuric dermatosis, and deep fungal infection may not usually present with extensive verrucous lesions, as shown. Although podoconiosis would be possible, this would likely be from chronic exposure to volcanic soil more apparent on the feet than legs.
References:
Liaw, F. Y., Huang, C. F., Wu, Y. C., & Wu, B. Y. (2012). Elephantiasis nostras verrucosa: swelling with verrucose appearance of lower limbs. Canadian family physician Medecin de famille canadien, 58(10), e551–e553.