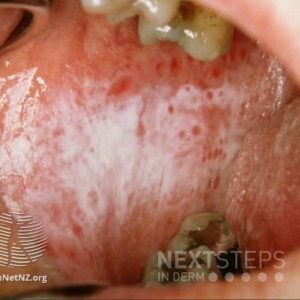 The correct answer is C. Axilla.
This patient may have a variant of lichen planopilaris known as Graham-Little–Piccardi–Lassueur syndrome.
Graham-Little–Piccardi–Lassueur syndrome is characterized by the triad of: (1) non-cicatricial loss of pubic and axillary hairs and disseminated spinous or acuminated follicular papules; (2) typical cutaneous or mucosal lichen planus (LP); and (3) scarring alopecia of the scalp with or without. These features need not be present simultaneously.
References: 
1. Bolognia JL, Schaffer JV, Cerroni L, Callen JP. Dermatology Volume 2. Edinburgh Elsevier; 2018.
Brought to you by our brand partner