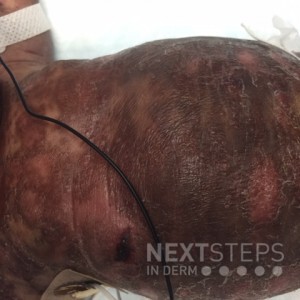 The correct answer is B. Mastocytosis.
The patient presents with likely systemic mastocytosis, but definitively with diffuse cutaneous mastocytosis based on the appearance of the skin lesions and the c-KIT positive staining pattern.
T cell and B cell lymphoma are not correct as the staining pattern and infiltrate would appear differently in each of those conditions. Congenital syphilis would not stain positive for c-KIT, though syphilis should be on the differential diagnosis clinically. Neuroendocrine IHC markers, such as CD56, chromogranin A, and synaptophysin would be present in the case of neuroblastoma.
References:
Valent P, Akin C, Hartmann K, et al. Advances in the Classification and Treatment of Mastocytosis: Current Status and Outlook toward the Future. Cancer Res. 2017;77(6):1261–1270. doi:10.1158/0008-5472.CAN-16-2234