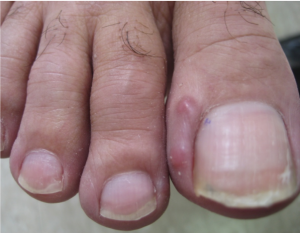 Correct Answer: 3. Destructive Arthritis
Explanation: The image represents multicentric reticulohistiocytosis. Clinically this histiocytosis manifests as smooth red to yellowish papules and nodules or occasionally thin plaques favoring acral and extensor surfaces, occasionally with leonine facies. When nodules are aligned along the proximal-lateral nail fold as in the associated image, it is described as having a "coral bead" appearance. Systemic manifestations include destructive arthritis in approximately 60% with so called "accordion hands" on x-ray, associated malignancy in approximately 25% and occasionally internal organ involvement. Important entities in the clinical differential diagnosis include erythema elevatum diutinum and dermatomyositis.
Don't Agree? Tell us why in the comments section below.
Brought to you by our brand partner Derm In-Review
Question and image courtesy of Adam Friedman, MD.
Explanation of correct answer written by Chris English, MD.