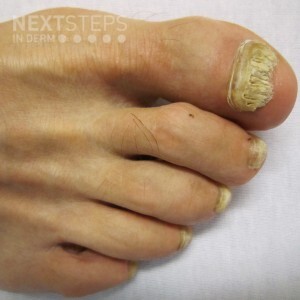 The correct answer is B. Oral terbinafine.
The correct answer is oral terbinafine. This patient has onychomycosis complicated by severe tinea pedis/incognito. The combination of betamethasone and clotrimazole allowed the fungus to spread to the dorsal and lateral aspects of the right foot. A nail clipping was sent to pathology, which confirmed the presence of dermatophytes in the nail plate. When treating tinea, it is important to address the onychomycosis as well, this is to prevent recurrences. The patient had greater than 3 nails affected, so oral therapy is indicated to treat both the onychomycosis and tinea pedis. Systemic treatments approved for onychomycosis include oral terbinafine and itraconazole. Due to higher cure rates with terbinafine and fewer drug interactions, terbinafine is usually preferred over itraconazole. For the toenails, terbinafine and itraconazole have a complete cure rate of 38% and 14%, respectively. Terbinafine's most common side effects are headache, gastrointestinal symptoms, and rash. Terbinafine-induced idiosyncratic liver injury is rare – the FDA recommends baseline serum transaminases but data is lacking on laboratory monitoring.
Oral itraconazole is an option for patients with onychomycosis due to dermatophytes +/- Candida spp. In addition, patients with connective tissue diseases such as lupus should avoid terbinafine as it can cause systemic lupus erythematosus and subacute cutaneous lupus erythematosus. Itraconazole has a lower cure rate than terbinafine. Topical ciclopirox nail lacquer is approved for onychomycosis, but this would not address the tinea pedis. Ciclopirox has a very low cure rate for toenails, at 8.5%. Topical efinaconazole also has a low cure rate, at 15.2%. Oral ketoconazole has a black box warning and is contraindicated due to hepatotoxicity.
References:
Lipner SR, Scher RK. Onychomycosis: Clinical overview and diagnosis. J Am Acad Dermatol. 2019;80(4):835-851. doi:10.1016/j.jaad.2018.03.062
Lipner SR, Scher RK. Onychomycosis: Treatment and prevention of recurrence. J Am Acad Dermatol. 2019;80(4):853-867. doi:10.1016/j.jaad.2018.05.1260
Geizhals S, Lipner SR. A Timeline of Onychomycosis Therapy and Future Directions. Skinmed. 2020;18(6):367-371. Published 2020 Dec 1.