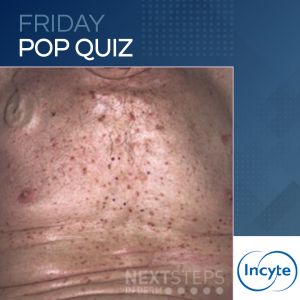 The correct answer is D. Topical corticosteroid.
The patient's lesions are most consistent with a Grover disease-like eruption related to a BRAF inhibitor for metastatic melanoma. For this eruption, the most appropriate treatment is a topical corticosteroid.
Dupilumab may be considered if the eruption is related to atopic dermatitis; however, these lesions are not eczematous in nature. Etanercept may be used for psoriatic lesions, but these lesions are more consistent with a Grover disease-like eruption. Oral terbinafine and topical ketoconazole may be used for a fungal infection, though this is less likely in the given scenario.
References:
Carlos G, Anforth R, Clements A, et al. Cutaneous Toxic Effects of BRAF Inhibitors Alone and in Combination With MEK Inhibitors for Metastatic Melanoma. JAMA Dermatol. 2015;151(10):1103-1109.