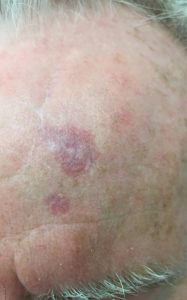 Correct Answer:  1. Pulsed Dye
Explanation: The histopathology describes granuloma faciale: dense, often nodular infiltrate in the mid dermis with a Grenz zone and mixed infiltrate of eosinophils, neutrophils, plasma cells, mast cells, and lymphocytes, with extravasated RBCs. Vascular ectasia with fibrin deposition may be seen. There are several reports of treatment with pulsed dye laser.
Don't Agree? Tell us why in the comments section below.