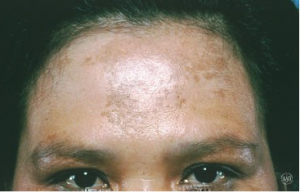 Correct Answer: A. Trichloroacetic acid 10-25%
Indications for superficial chemical peels include melasma (shown in picture). This patient has darker skin. Superficial chemical peels can be used in all Fitzpatrick skin types. Tricholoracetic acid (TCA) 10-25%, Jessner's solution, and Glycolic acid 20-70% are the best three superficial peel options for treatment of melasma. Baker Gordon Peel is a deep chemical peel, not for use in darker skin types. TCA 35% is a medium depth peel. One coat (not 3 coats) can be considered a superficial peel. Medium depth peels have a higher risk for postinflammatory hyperpigmentation in darker skin types. TCA 50% and TCA 35% + Jessner's solution are medium depth peels.
References:
Landau M and Ghannam S. Chemical Peels ch 25 in Surgery of the Skin, 3rd ed. Editor: Robinson J. Elsevier 2015. pp 393-408.
Kingsley M, Metelitsa AI, Somani A. Chemical Peels ch 49 in Comprehensive Dermatologic Drug Therapy, 3rd ed. Editor: Wolverton S. Elsevier 2013. pp 579-583.e1
Don't Agree? Tell us why in the comments section below.
Brought to you by our brand partner