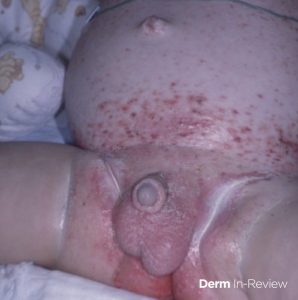 The correct answer is C. CD1+, S100+ cells with reniform nuclei
This patient most likely has Langerhans cell histiocytosis. Langerhans cells are CD1 and S100 positive. The nuclei are described as kidney shaped, or reniform.
Incorrect: Foamy histiocytes with Touton giant cells would be found in a juvenile xanthogranuloma. Mixed cellular infiltrate in a "ball and claw" pattern is found in lichen nitidus.
References:
Langerhans cell histiocytosis in children: History, classification, pathobiology, clinical manifestations, and prognosis.
Krooks J, Minkov M, Weatherall AG. J Am Acad Dermatol. 2018 Jun;78(6):1035-1044 [https://www.ncbi.nlm.nih.gov/pubmed/29754885]