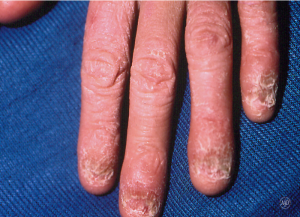 Correct Answer: 2. Hypoparathyroidism
Explanation: The syndrome depicted is autoimmune polyendocrinopathy-candidiasis–ectodermal dystrophy/dysplasia (APECED) caused by a defect in the AIRE gene. The most commonly associated endocrine abnormality is hypoparathyroidism, followed by hypoadrenocorticism. Vitiligo and alopecia areata may be seen in this condition as well.
Don't Agree? Tell us why in the comments section below.