Saleh Rachidi, MD, PhD
As of May 2020: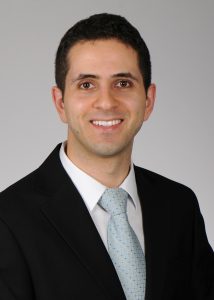 Saleh Rachidi, MD, PhD was born and raised in Sidon, Lebanon, and moved to Beirut at age 18 to attend the American University of Beirut (AUB), where he received a BS in Biology. He then completed the two preclinical years of medical school at AUB before joining the Medical Scientist Training Program at the Medical University of South Carolina (MUSC) in 2010. At MUSC, he spent four years in the lab of Dr. Zihai Li, where he earned his PhD in biomedical sciences, and completed clinical years of medical school where he was inducted to the Alpha Omega Alpha medical society in 2015. He graduated from MUSC in 2016, receiving the Distinguished Graduate of the Year Award. After completing a transitional year at Indiana University, he moved to Baltimore to start Dermatology residency at Johns Hopkins in July 2017. During graduate school, he discovered that platelets suppress anti-tumor T cell immunity and found that targeting platelets is a viable strategy to augment cancer immunotherapy. This is the basis of an ongoing clinical trial at MUSC combining immunotherapy with platelet inhibitors in head and neck cancer. He plans on utilizing this immunomodulatory potential of platelets in skin diseases such as alopecia areata and vitiligo, as well as using aspirin to improve progression-free survival in high-risk
melanoma patients. During residency, he received a grant from the Center for Clinical Data Analysis (CCDA) to investigate clinical parameters in melanoma patients which could further guide their management, as well as travel awards from the SID, ASDS, and ASLMS. He will be joining the ASDS fellowship program of Dr. David Goldberg in NJ and NY this year.