Tammie Ferringer, MD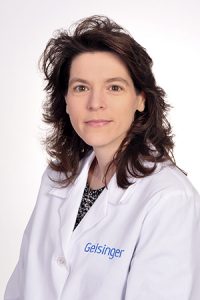 Tammie Ferringer, MD
Dr. Ferringer is Geisinger Medical Laboratory's section head and fellowship director of dermatopathology. She earned her MD at Medical College of Pennsylvania and completed her dermatology residency at Geisinger Medical Center in Danville, Pennsylvania. After completing her dermatopathology fellowship at Medical University of South Carolina under John Maize and John Metcalf in 2004, Dr. Ferringer returned to Geisinger Medical Center to fulfil her passion to teach and mentor.
In 2009, she took over as program director for the dermatopathology fellowship which now has successfully graduated 22 fellows with one-third entering academics to further the legacy of educating future generations. In addition, she directs the dermatology residency curriculum in dermatopathology which has become one of the program's many strengths. Visiting professorship invitations at several programs have provided her the joy of teaching in various settings. Beyond the informal advisory role to residents, fellows and junior staff members, she has formally mentored dermatopathologists through the AAD Academic Dermatology Leadership Program and the ASDP Mentorship Program.
Dr. Ferringer is currently on the board of directors of the American Society of Dermatopathology and American Board of Dermatology. She has served on, or chaired, several committees of the AAD, APD, ABD, ASDP, ISDP, ACGME, and ABP. Her current editorial roles include Assistant editor of JAAD and Associate editor of Cutis. She has directed or moderated over thirty courses or sessions and been an invited speaker for more than 130 domestic and international lectures on a variety of topics, including tropical and infectious disease, adnexal tumors, and immunohistochemistry in over fifteen countries. Her current literary contributions include over 70 journal articles or textbook chapters, co-editor of a dermatopathology textbook and co-author of an online and mobile dermatopathology application.