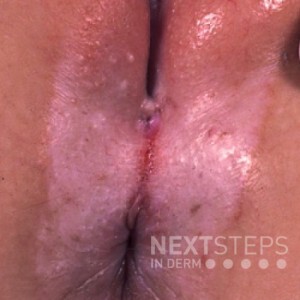 The correct answer is A. Development of a squamous cell carcinoma
Lichen sclerosus is most commonly located in the genitalia. Longstanding lichen sclerosus is thought to be a risk factor for the development of a squamous cell carcinoma.
Incorrect:
Lichen sclerosus of anogenital sites is associated with an increased risk of vulval, penile or anal cancer (squamous cell carcinoma, SCC).
Cancer is estimated to affect up to 5% of patients with vulval lichen sclerosus.
Cancer is more likely if the inflammatory disease is uncontrolled.
Invasive SCC presents as an enlarging lump, or a sore that fails to heal.
High-grade squamous intraepithelial lesions in females (SIL) or in males associated with lichen sclerosus may be HPV-associated (usual type), or differentiated.
Extragenital lichen sclerosus does not appear to predispose to cancer.
References:
Bunker CB, Shim TN. Male genital lichen sclerosus. Indian J Dermatol. 2015 Mar-Apr;60(2):111-7. doi: 10.4103/0019-5154.152501. Review. PubMed PMID: 25814697; PubMed Central PMCID: PMC4372901.
New Surgical Approach to Lichen Sclerosus of the Vulva: The Role of Adipose-Derived Mesenchymal Cells and Platelet-Rich Plasma in Tissue Regeneration. Casabona F, Priano V, Vallerino V, Cogliandro A, Lavagnino G. Plastic and Reconstructive Surgery. 126(4):210e-211e, October 2010. doi: 10.1097/PRS.0b013e3181ea9386
British Association of Dermatologists' guidelines for the management of lichen sclerosus 2010, SM Neill, FM Lewis, FM Tatnall, NH Cox, BJD, Vol. 163, No. 4, October 2010 (p672-682) – British Association of Dermatologists
Kirtschig G, Becker K, Günthert A, Jasaitiene D, Cooper S, Chi CC, Kreuter A, Rall KK, Aberer W, Riechardt S, Casabona F, Powell J, Brackenbury F, Erdmann R, Lazzeri M, Barbagli G, Wojnarowska F. Evidence-based (S3) Guideline on (anogenital) Lichen sclerosus. J Eur Acad Dermatol Venereol. 2015 Jul 22. doi: 10.1111/jdv.13136. [Epub ahead of print] PubMed PMID: 26202852. Download.