On this Mnemonic Monday, we challenge you to remember stains for Mast cells.
"GIMME TO YOUR LEDER"
Giemsa
Toluidine blue
Leder
Remember  "rub me and take me to your Leder" as a mnemonic to remember that Leder stain still works after Darier's sign is induced (after de-granulation of mast cells). Side note: Not all stains are included here. Ex: tryptase and c-kit would also stain masts cells, but are less commonly used in clinical practice.
Click HERE to download or print your mnemonic card.
Study More!
Need a refresher on mast cells? Check out page 24 of your 2020 Derm In-Review Study Guide.
Don't have a copy? Sign up for Derm In-Review and download the digital version here.
Further Reading
Check out the following case report published in the Journal of Drugs in Dermatology (JDD):
Mast Cell Burden in a Patient With Cutaneous Disease
ABSTRACT
Mastocytosis is a disease characterized by the abnormal clonal proliferation of mast cells in skin and/or extracutaneous organs, often relating to activating mutations of c-KIT. Histopathology special stains, such as Giemsa, Leder, and Toluidine blue, are key for the diagnosis of cutaneous mastocytosis (CM). In adults, skin lesions can be associated with systemic disease. Tryptase is a diagnostic marker in mastocytosis and thought to reflect the burden of mast cell disease. In this report, we present a case of cutaneous mast cell disease with associated findings of elevated serum tryptase and mast cell infiltration of the bone marrow consistent with indolent systemic mastocytosis. Read the full case report here.
J Drugs Dermatol. 2017;16(12):1285-1287.
Test your knowledge!
A 5-month-old presents with the lesions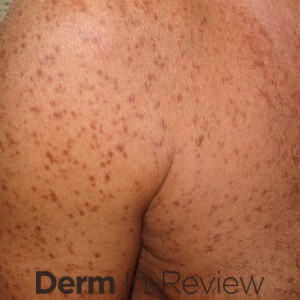 shown. What would be used on pathology to highlight the affected cells?
A: MITF
B: Fontana Masson
C: Actin/Desmin
D: Giemsa
E: Von Kossa
To find out the correct answer and read the explanation, click here.
Did you enjoy this mnemonic? You can find more here.
Brought to you by our brand partner Derm In-Review.  A product of SanovaWorks.