Several media outlets have covered the case of a popular blogger who recently experienced eyelid ptosis from botulinum toxin injections. How can dermatologists avoid adverse effects when injecting botulinum toxin?
For an expert opinion I contacted Dallas dermatologist Elizabeth Bahar Houshmand, MD, FAAD.
What does the scientific literature say about the frequency of eyelid ptosis as an adverse effect of botulinum toxin injections?  
Eyelid ptosis or lid droop is a side effect of the injection of botulinum toxin into the upper third of the face. The incidence of ptosis after injections by providers is reported to be about 5 percent. However, with an experienced physician the incidence is less than 1 percent.
Is eyelid ptosis most commonly due to misplaced injections or other factors? 
Eyelid ptosis is most commonly seen from inappropriate placement of botulinum toxin. This specific complication can be avoided by staying at least 2‐3 cm above the supraorbital margin or 1.5‐2 cm above the eyebrow while injecting into the frontalis. This technique spares the function of the inferior frontalis muscle fibers in the area thereby preventing ptosis.
Knowledge of the anatomy is critical. Assessing the individual's facial muscle movements – both at rest and while in motion – is key to optimize results and avoid complications. Following a "standard" injection pattern does not work for all patients and should be avoided. Every patient should be assessed individually.
What are some other adverse effects of botulinum toxin injections that are important for dermatologists to know?  
Other adverse effects include local edema, erythema, bruising and pain at the injection and adjacent sites. Injection technique is a key component. I recommend injecting slowly and precisely using a small gauge needle and paying close attention to all the superficial vessels which can help limit bruising especially around the lateral canthus region.
I use ice, which can help minimize pain and also cause vasoconstriction to minimize bruising. Some patients can present with a dull and transient headache with general body malaise after the injection. Serious reactions like anaphylaxis, urticaria, soft tissue edema and dyspnea are rare but reported.
Injection of high doses of botulinum toxin into the area of lateral canthus can cause more serious adverse reactions, including ectropion, diplopia, xerophthalmia and lagophthalmos. This is why patients should always see a board-certified dermatologist with experience in botulinum toxin injections.
What are your best tips for avoiding adverse effects?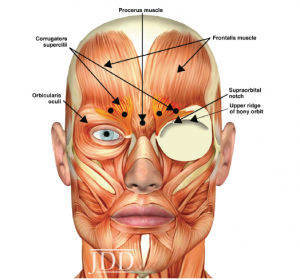 These complications can be reduced by injecting the toxin subdermally; i.e., in the correct plane and the appropriate amounts. The key factors are knowledge of the anatomy, appropriate placement and experience.
What should dermatologists know when placing botulinum toxin injections? 
Botulinum toxin injections are a popular aesthetic procedure, but they should be respected and known as medical procedures. They do have less down time and can be performed in our clinics on an outpatient basis. However, patients should always look and ask for the credentials of who is performing the procedure. I recommend all patients see a board-certified dermatologist with appropriate training and experience. There are many people who take a weekend course and can legally inject. Although the overall side-effect profile of such procedures is low, it's critical that injectors have an in-depth knowledge of anatomy, know the patient's medical history, are aware of possible complications related to the specific product and location, and conduct follow‐up to ensure treatments are safe and effective.
How should dermatologists treat eyelid ptosis and other adverse effects?  
You should never perform a procedure that you don't know how to manage.
Eyelid ptosis can be treated with α-adrenergic eyedrops. They cause contraction of Müller's muscle and cause 1 to 2 mm of elevation of the upper lid, not the eyebrow, which is usually sufficient to make the eyelids symmetrical. There may be contraindications, however, to the use of α-adrenergic agonists in some cases, and dermatologists should review a patient's medical history to make sure the patient is an appropriate candidate.
Did you enjoy this Patient Buzz Expert Commentary? You can find more here.
Image by tB – Own work, CC BY-SA 4.0, https://commons.wikimedia.org/w/index.php?curid=72194277