INTRODUCTION
Epoprostenol (Flolan) is a last-resort intravenous (IV) medication for the treatment of severe pulmonary arterial hypertension (PAH). Cutaneous adverse events of Flolan are well-known by pulmonologists, though lacking in dermatologic literature.1 We report an extensive near erythrodermic appearing asymptomatic eruption following long-term use of epoprostenol. This characteristic and striking eruption associated with Flolan necessitates awareness by healthcare providers outside of the field of pulmonology in order to avoid unnecessary procedures.
CASE
A 57-year-old woman with a past medical history of end-stage PAH treated with continuous IV epoprostenol (maximum dose 89 ng/kg/min) for 10 years presented to the emergency department for a self-reported tender nodule of the shin and burning sensation of her right lower extremity. On exam, no palpable nodule was appreciated. However, she had an extensive, yet asymptomatic confluent and blanchable erythematous eruption surrounded by a hypopigmented halo, encompassing her entire torso and all extremities. She further had brightly erythematous palms and soles associated with painful tingling while walking (Figure 1). She was remarkably unconcerned by her eruption, stating the lesions had been present for many years and were a side effect of Flolan. She was given clobetasol 0.05% ointment while authorizations were submitted for biopsies and noted no clinical improvement.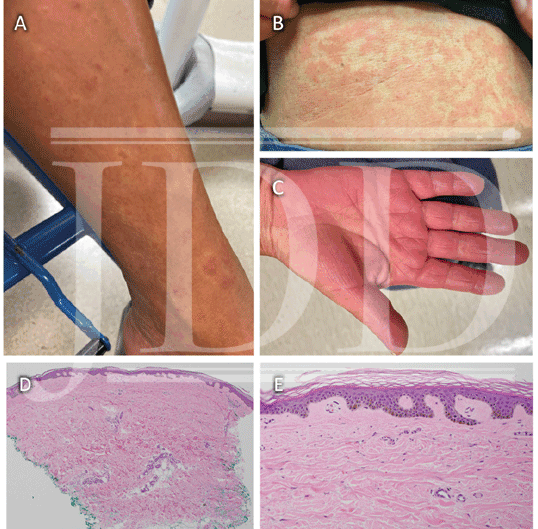 Laboratory workup was significant only for thrombocytopenia and slightly elevated erythrocyte sedimentation rate (ESR); connective tissue disease markers were negative. Biopsies from the arm and shin were unremarkable, demonstrating dilated blood vessels within the upper dermis of the arm, and slightly increased dermal and subcutaneous mucin of unknown significance in the lower leg. Neither biopsy showed an inflammatory infiltrate (Figure 1D, E).
DISCUSSION
The clinical manifestations of epoprostenol, a synthetic prostacyclin (PGI2), include vasodilation, inhibition of smooth muscle growth, and inhibition of platelet aggregation. It is commonly prescribed as a continuous IV infusion for severe PAH. As a last-resort medication, it is titrated based on symptoms, hemodynamic compromise, and adverse events. Dose-limiting side effects include headache, hypotension, flushing, arthralgia, and myalgia.2
The exact number of patients experiencing cutaneous adverse events remains relatively unknown due to the low prevalence of PAH. Flushing has been reported in as many as 58% of patients following epoprostenol use.3 Other cutaneous presentations include erythroderma,1,4 generalized blanching
erythema, palpable purpura, brawny discoloration, capillaritis, skin ulceration, eczematous dermatitis/rash/urticaria, and moderate pitting edema.2 The prostacyclin-IP receptor pathway has been implicated in nociceptive signal transmission, and lower extremity pain and swelling are common, though often successfully relieved with gabapentin.5
A case series by Myers et al, described long-standing, persistent skin eruptions following epoprostenol, and suggested a spectrum of drug-induced skin changes.2 Many presented with flushing and generalized blanching erythema, most prominent on the lower extremities, which is where biopsies were obtained. Myers also described a variety of histopathologic findings, including vascular ectasia interpreted to be stasis change, spongiotic dermatitis, and leukocytoclastic vasculitis (LCV) in a few patients with clinically purpuric lesions (Table 1).2 Similar to our patient, most were asymptomatic. In our case, the bright red eruption was thought primarily due to prostanoid vasodilatory effects, consistent with patients from the case series that presented with diffuse erythema and exhibited vascular ectasia. Noteworthy in our patient was a hypopigmented zone surrounding areas of erythema (Figure 1A). As epoprostenol is a prostacyclin analog, the mechanism of this halo may be similar to the Woronoff ring evident in psoriasis, which is due to local inhibition of prostaglandin E2 synthesis, leading to an inability to flush.6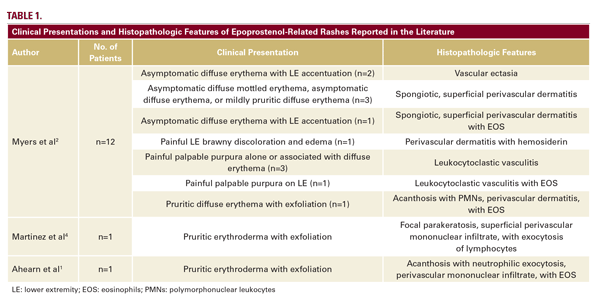 While the incidence of PAH is low, dermatologists are likely to encounter patients on epoprostenol during their practice. We aim to increase awareness of the so-called "Flolan rash", a persistent erythematous eruption that can commonly occur with long-term therapy.
DISCLOSURES
The authors have no conflict of interest to disclose.
REFERENCES
1. Ahearn GS, Selim MA, Tapson VF. Severe erythroderma as a complication of continuous epoprostenol therapy. Chest. 2002;122(1):378-380. doi:10.1378/ chest.122.1.378
2. Myers SA, Ahearn GS, Angelica Selim M, Tapson VF. Cutaneous findings in patients with pulmonary arterial hypertension receiving long-term epoprostenol therapy. J Am Acad Dermatol. 2004;51(1):98-102. doi:10.1016/j. jaad.2003.12.032
3. Fuentes A, Coralic A and Dawson KL. A new epoprostenol formulation for the treatment of pulmonary arterial hypertension. Am J Health Syst Pharm. 2012;69(16):1389-1393. doi:10.2146/ajhp110687
4. Martínez-Martínez ML, Escario-Travesedo E, Nuñez-Ares A, et al. Epoprostenol: Flushing or Erythroderma? Ann Dermatol. 2013;25(2):271- 272. doi:10.5021/ad.2013.25.2.271
5. Ricciotti E and FitzGerald GA. Prostaglandins and inflammation. Arterioscler Thromb Vasc Biol. 2011;31(5):986-1000. doi:10.1161/ATVBAHA.110.207449
6. Penneys NS, Ziboh V, Simon P, Lord J. Pathogenesis of Woronoff ring in psoriasis. Arch Dermatol. 1976;112(7):955-957.
SOURCE
Did you enjoy this JDD Case Report? You can find more
here
.