On this Mnemonic Monday, we challenge you to remember the types of interpolation flaps. Interpolation flaps are tissue importation flaps, which are staged, with pedicle division occurring 2-3 weeks after the initial flap placement, with the following mnemonic:
Play Like My Retro Turntable
P=paramedian forehead flap
Supratrochlear artery axial fap
L= lip switch flap
Aka Abbe flap, labial artery axial flap
M= melolabial interpolation flap
Random pattern flap with perforators from the axial artery
Retro= retroauricular pedicled flap
Random pattern blood supply from the mastoid region
T= tissue importation flap
Aka interpolation flap, tissue is imported into cover the surgical defect, then the pedicle is divided at 2-3 weeks (hence, 2-part surgery)
Click HERE to download or print your mnemonic card.
Study More!
Need a refresher on interpolation flaps? Check out page 274 of your 2022 Derm In-Review Study Guide.
Don't have a copy? Sign up for Derm In-Review and download the digital version here.
Further Reading
Check out the following JDD articles on wound healing:
Surgical Corner: Wet Behind the Ears: The Postauricular Training Ground for Local Flaps
ABSTRACT
Early in the course of surgical education, dermatologic and plastic surgery trainees shift from theory to practice. This shift must be done cautiously so as not to cause unnecessary damage to the patient, especially when attempting to reconstruct soft tissue defects on the face. Helical rim defects present an excellent opportunity because the postauricular region provides a safe environment for novice surgeons to practice the theoretical and manual aspects of basic flap reconstruction. This paper explains key features on how to plan basic flaps based on postauricular tissues.
J Drugs Dermatol. 2012;11(11):1358-1360.
Read the full article here.
Delay Techniques for Local Flaps in Dermatologic Surgery
ABSTRACT
Local flaps may be required to reconstruct defects on the face, neck, and scalp. Occasionally, delay techniques are indicated to reduce the risk for flap ischemia and subsequent necrosis. Delay may be employed before the flap is raised, as done to improve blood supply to a random flap when length to breadth proportions are not ideal, or after the flap is raised and before separation of the pedicle in the final reconstructive step to improve vascularity in the distal end of an interpolation flap. We present our techniques and results of delay procedures for interpolation and similar flaps.
J Drugs Dermatol. 2012;11(9):1108-1110.
Read the full case report here.
Test your knowledge!
The image provided is an example of which type of flap?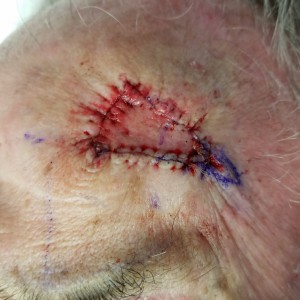 A. Advancement
B. Rotation
C. Transportation
D. Interpolation
E. Axial
To find out the correct answer and read the explanation, click here.
Did you enjoy this mnemonic? You can find more here.
Brought to you by our brand partner Derm In-Review.  A product of SanovaWorks.