On this Mnemonic Monday, we challenge you to remember 3 types of minocycline induced hyperpigmentation with the following mnemonic:
I HAVE SCARS ON MY SHIN FROM THE SUN
SCAR: Type I minocycline induced hyperpigmentation (discoloration in sites of prior inflammation or scars)
SHIN: Type II minocycline induced hyperpigmentation (discoloration on the shins)
SUN: Type III minocycline induced hyperpigmentation (discoloration in sun-exposed areas)
Click HERE to download or print your mnemonic card.
Study More!
Need a refresher on mast cells? Check out page 411 of your 2022 Derm In-Review Study Guide.
Don't have a copy? Sign up for Derm In-Review and download the digital version here.
Further Reading
Check out the following JDD case reports on today's topic:
Minocycline-Induced Hyperpigmentation Resolves during Oral Isotretinoin Therapy
ABSTRACT
Although disfiguring hyperpigmentation is a well-defined complication of minocycline therapy, modalities to reverse the phenomenon are unpredictable. We report a case of minocycline-induced, blue-black pigmentation in a 23-year-old Hispanic man, which resolved after treatment with oral isotretinoin for acne vulgaris. Read the full case report here.
Minocycline Pigmentation Following Carbon Dioxide Laser Resurfacing: Treatment With the Q-switched Nd:YAG Laser
ABSTRACT
Minocycline is among the most common drugs to cause drug-induced pigmentation. Dermal deposition of drug metabolites typically occurs in areas of vascular leakage, such as surrounding lower extremity spider veins, within erythema associated with solar elastosis, and in areas of bruising. The skin affected by minocycline pigmentation typically takes on a slate-gray coloring in affected areas. The current patient developed minocycline pigmentation after carbon dioxide laser resurfacing of her upper lip to treat rhytides in the laser-treated area. Laser treatment with the 1,064 nm, Q-switched Nd:YAG laser was able to remove the pigmentation. Read the full case report here.
J Drugs Dermatol. 2015;14(4):411-414.
Test your knowledge!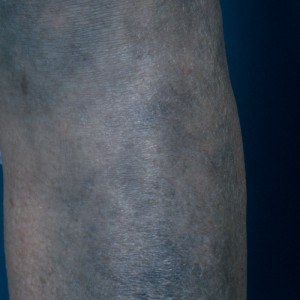 This 35 year-old man presents with the lesions shown. He was treated elsewhere for a different skin condition. Biopsy of these lesions is likely to show:
A. Increased staining on Fontana Masson but not Perls stain
B. Increased staining on Perls stain but not Fontana Masson
C. Increased staining on both Fontana Masson and Perls stain
D. Increased melanin at the basal layer and within macrophages only
E. Fibrosis and increased mucin deposition
To find out the correct answer and read the explanation, click here.
Did you enjoy this mnemonic? You can find more here.
Brought to you by our brand partner Derm In-Review.  A product of SanovaWorks.