On this Mnemonic Monday, we challenge you to remember the side effects of hedgehog inhibitors, vismodegib and sonidegib, with the following mnemonic:
M=muscle spasm (72% of cases)
A=alopecia (64% of cases)
D= dysgeusia (55% of cases)
Weight loss= weight loss (45% of cases)
Click HERE to download or print your mnemonic card.
Study More!
Need a refresher on hedgehog path inhibitors ? Check out page 296 of your 2022 Derm In-Review Study Guide.
Don't have a copy? Sign up for Derm In-Review and download the digital version here.
Further Reading
Check out the following JDD articles on wound healing:
A Review of Hedgehog Inhibitors Sonidegib and Vismodegib for Treatment of Advanced Basal Cell Carcinoma
ABSTRACT
Basal cell carcinoma (BCC) is the most common malignancy in fair-skinned populations. Most cases are successfully treated with surgery, but in advanced BCC—including locally advanced BCC and metastatic BCC—surgery is likely to result in substantial morbidity or unlikely to be effective. In those patients, the systemic Hedgehog inhibitors (HHIs) sonidegib and vismodegib are the only approved pharmacologic treatment option. Although a number of clinical studies highlight the similarities and differences between the two HHIs, no head-to-head clinical comparison is available. Results from the pivotal BOLT and ERIVANCE clinical studies for sonidegib and vismodegib, respectively, demonstrate similar efficacy measured by objective response rate, complete response rate, and histologic tumor subtype. Safety results for both studies are comparable with similar common adverse events reported for muscle spasms, alopecia, and dysgeusia. A notable difference between sonidegib and vismodegib is their respective pharmacokinetic profiles with sonidegib reaching peak concentration in plasma within 2–4 hours of dosing and steady state in plasma achieved by week 17 of treatment, while vismodegib reaches peak plasma concentration approximately 2 days after a single dose and steady state within 21 days of repeated dosing. This review compares efficacy, safety, and pharmacokinetics of sonidegib and vismodegib based on published literature to date.
J Drugs Dermatol. 20(2):156-165. doi:10.36849/JDD.2021.5657
Read the full article here.
Vismodegib as a Neoadjuvant Treatment to Mohs Surgery for Aggressive Basal Cell Carcinoma
ABSTRACT
BACKGROUND: Vismodegib, a hedgehog pathway inhibitor has been recently introduced as an oral therapy for locally advanced and metastatic basal cell carcinoma. Although treatment of patients with basal cell carcinoma with vismodegib has been associated with partial or complete clinical response, it is still unclear if it is also associated with histological cure.
PATIENTS: Two patients with 3 large and aggressive basal cell carcinomas were treated with Vismodegib for 6 months. The treatment was followed by Mohs micrographic surgery.
RESULTS: Two tumors disappeared clinically and one was reduced dramatically in its size following treatment with vismodegib. Mohs surgery in all three tumors revealed residual islands of BCC although margins were cleared at the end of surgery.
CONCLUSIONS: Neoadjuvant therapy with vismodegib for 6 months prior to Mohs surgery was effective in reducing the size of primary and recurrent aggressive basal cell carcinoma. However, residual tumor nests were found during surgery. Further larger studies are needed to evaluate the efficacy of Vismodegib as a neoadjuvant treatment prior to Mohs surgery.
J Drugs Dermatol. 2015;14(3):219-221.
Read the full case report here.
Test your knowledge!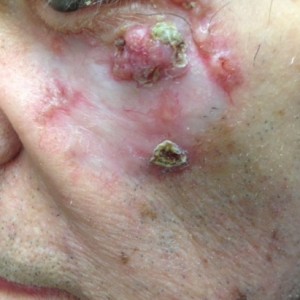 The patient declines surgical intervention for this cutaneous neoplasm and a decision is made to pursue medical therapy. What is the most common side effect of the FDA-approved medication for this neoplasm?
A. Nausea
B. Flu-like illness
C. Chest pain
D. Muscle spasms
E. Alopecia
To find out the correct answer and read the explanation, click here.
Did you enjoy this mnemonic? You can find more here.
Brought to you by our brand partner Derm In-Review.  A product of SanovaWorks.