On this Mnemonic Monday, we challenge you to remember the stages of wound healing: vascular phase (immediate), inflammatory phase (6h-10 days), proliferative phase (24hrs-14 days), wound contraction and remodeling (10days-1 year), with the following mnemonic:
VIP Room
V= vascular
Formation of a fibrin plug
I= inflammatory
First 72hours= neutrophils, 3+ days= macrophages, 6+ days=lymphocytes, fibronectin is key to wound healing
P= proliferative
Re-epithelialization
R= remodeling and contraction
Contraction greatest at days 5-15, 70% tensile strength at 8 weeks
Click HERE to download or print your mnemonic card.
Study More!
Need a refresher on wound healing? Check out pages 33–35 and 268 of your 2022 Derm In-Review Study Guide.
Don't have a copy? Sign up for Derm In-Review and download the digital version here.
Further Reading
Check out the following JDD articles on wound healing:
Wound Healing Treatments After Ablative Laser Skin Resurfacing: A Review
ABSTRACT
Laser resurfacing has progressed since the 1980s to treat a variety of medical and aesthetic indications with ever-evolving safety parameters. While laser technology has evolved to provide a more favorable safety profile and decrease wound healing time, advances in post-procedure healing agents have also helped to mitigate adverse effects, such as persistent erythema, dyspigmentation, acneiform eruptions, dermatitis, infections, and scarring. We reviewed the evidence of growth factors, stem cells, silicone and silicone polymers, botanical based treatments, fatty acids, probiotics, and closed dressings on post-ablative laser skin resurfacing. All reviewed agents demonstrated some evidence in improving post-procedure outcomes, albeit mixed in many cases. Additionally, these studies contain small numbers of participants, vary in type, strength, and clinical indication for which the resurfacing laser was used, and have differing postprocedural evaluation protocols and assessments. This highlights a need for standardization of clinical studies and the importance of choosing an optimal postprocedural skincare plan depending on every unique clinical scenario.
J Drugs Dermatol. 2020;19(11):1050-1055. doi:10.36849/JDD.2020.5386
Read the full article here.
Life of a Wound: Serial Documentation of Wound Healing After Shave Removal Using Reflectance Confocal Microscopy
ABSTRACT
Reflectance Confocal Microscopy (RCM) is a new noninvasive skin imaging modality that is comparable to traditional histopathology. We present serial in vivo RCM imaging of an atypical nevus after shave excision over a 1-month period. Findings on RCM images are consistent with the inflammatory, proliferative, and remodeling phases of wound healing, and RCM may serve as a new tool to study wound healing in vivo over time.
J Drugs Dermatol. 2019;18(5):472-474.
Read the full case report here.
Test your knowledge!
As the shown wound heals and matures, which cell type is most important for wound contraction?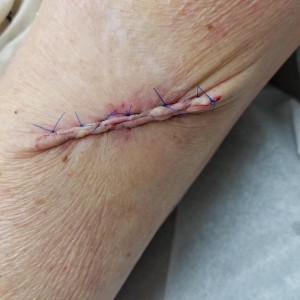 A. Macrophages
B. Neutrophils
C. Fibroblasts
D. Myofibroblasts
E. Endothelial cells
To find out the correct answer and read the explanation, click here.
Did you enjoy this mnemonic? You can find more here.
Brought to you by our brand partner Derm In-Review.  A product of SanovaWorks.