On this Mnemonic Monday, we challenge you to remember cutaneous and systemic manifestations of tuberous sclerosis (also known as Bourneville syndrome or epiloia) with the following mnemonic:
FASTT KARRRMA
Forehead plaque
Angiofibromas
Shagreen patches
Tubers, cortical Tonic-clonic seizures
Koenan tumor
Ash leaf macules
Renal angiomyolipomas
Retinal hamartomas
Rhabdomyomas
Mental retardation (MR)
Click HERE to print your mnemonic card.
Study More!
Need a refresher on Tuberous sclerosis? Check out the following pages of your 2019 Derm In-Review Study Guide:
Tuberous sclerosis, 222, 231, 247, 248, 249
Don't have a copy? Sign up for Derm In-Review and download the digital version here.
Test your knowledge!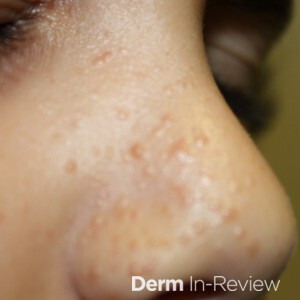 A 6-year-old boy presents with the facial papules seen here. What physical finding is the earliest seen in the syndrome associated with this condition?
A. Ash-leaf hypopigmented macule
B. Retinal hamartoma
C. Lymphangiomyomatosis
D. Periungual fibromas
E. Bulbar telangiectasias
To find out the correct answer and read the explanation, click here.
Did you enjoy this mnemonic? You can find more here.
Brought to you by our brand partner Derm In-Review.  A product of SanovaWorks.