Cutaneous T cell lymphoma (CTCL) is the most common primary cutaneous lymphoma, and in some patients, it could be persistent for decades. Therapy for CTCL depends on disease stage and response to prior treatments. In this month's installment of Therapeutic Cheat Sheets, we will discuss use of bexarotene for the treatment of CTCL.
BEXAROTENE THERAPEUTIC CHEAT SHEET
Compiled by: Adrianna Gonzalez M, Reviewed by: Adam Friedman MD
TRADE NAME
MECHANISM OF ACTION
Bexarotene is a vitamin A derivative that selectively binds and activates retinoid X receptors (RXRs), which function as ligand-activated transcription factors that control the expression of genes that modulate cellular growth, apoptosis and differentiation
FDA APPROVED USES 
Oral bexarotene: Cutaneous manifestations of CTCL in patients who are refractory to at least one prior systemic therapy1
Topical bexarotene: Cutaneous lesions in patients with Stage IA and IB CTCL who have persistent or refractory disease after other therapies, or who have not tolerated other therapies
OFF-LABEL USES OF BEXAROTENE IN DERMATOLOGY
Oral and topical formulations: Psoriasis2,3
Topical formulation: alopecia areata4
DERMATOLOGIC DOSING
Oral formulation:

CTCL: Initial dose of 300 mg/m2/day; may increase up to a maximum dose of 400 mg/m2/day
Psoriasis: 0.5 to 3 mg/kg/day

Topical formulation: bexarotene 1% gel applied 2-4 times daily
SIDE EFFECTS
Hypertriglyceridemia and hypercholesterolemia can be seen in most patients. About 70% of patients of patients with CTCL at a dose of 300 mg/m2/day developed triglyceride levels 2.5 times the upper limit of normal and 60% developed cholesterol elevations above 300 mg/dL.1,5 Lipid levels should be monitored and treated with lipid lowering therapy (avoid gemfibrozil as mentioned below) or reduction in dose/cessation of bexarotene if needed to maintain triglyceride levels below 400 mg/dL.
Central hypothyroidism can be seen in a large percentage of patients, especially at doses greater than 300 mg/m2/day. Thyroid abnormalities are thought to be dose-dependent and are reversible with discontinuation of bexarotene. Prophylactic levothyroxine may be initiated 7 days prior or at the time of bexarotene initiation6
Headaches
Transaminitis
Leukopenia and neutropenia
Pancreatitis
Cataracts
Localized or extensive exfoliative dermatitis
Xerosis
Photosensitivity
CONTRAINDICATIONS
Pregnancy
Hypersensitivity
DRUG INTERACTIONS
Drugs that affect CYP3A4 may affect bexarotene levels
Concomitant use of gemfibrozil leads to increased bexarotene serum concentrations and can cause a paradoxical increase in triglyceride levels
Products containing N,N-diethyl-m-toluamide (DEET) should be avoided, as bexarotene may increase DEET toxicity 1
LAB MONITORING
Baseline: CBC, lipid panel, LFTs, TSH, free T4

Lipids should be monitored weekly for the first 2-4 weeks and then every 8 weeks thereafter
LFTs should be monitored 1, 2 and 4 weeks after treatment initiation and periodically thereafter
CBC and thyroid function tests should be monitored periodically throughout treatment

For females: Pregnancy test < 1 week prior to treatment initiation, then monthly
PREGNANCY
Bexarotene is pregnancy category X and can lead to severe birth defects. Two reliable forms of contraception must be used for one month prior to therapy initiation, during therapy and for at least one month following therapy discontinuation.
CLICK ON THE IMAGE BELOW TO ENLARGE AND/OR DOWNLOAD YOUR THERAPEUTIC CHEAT SHEET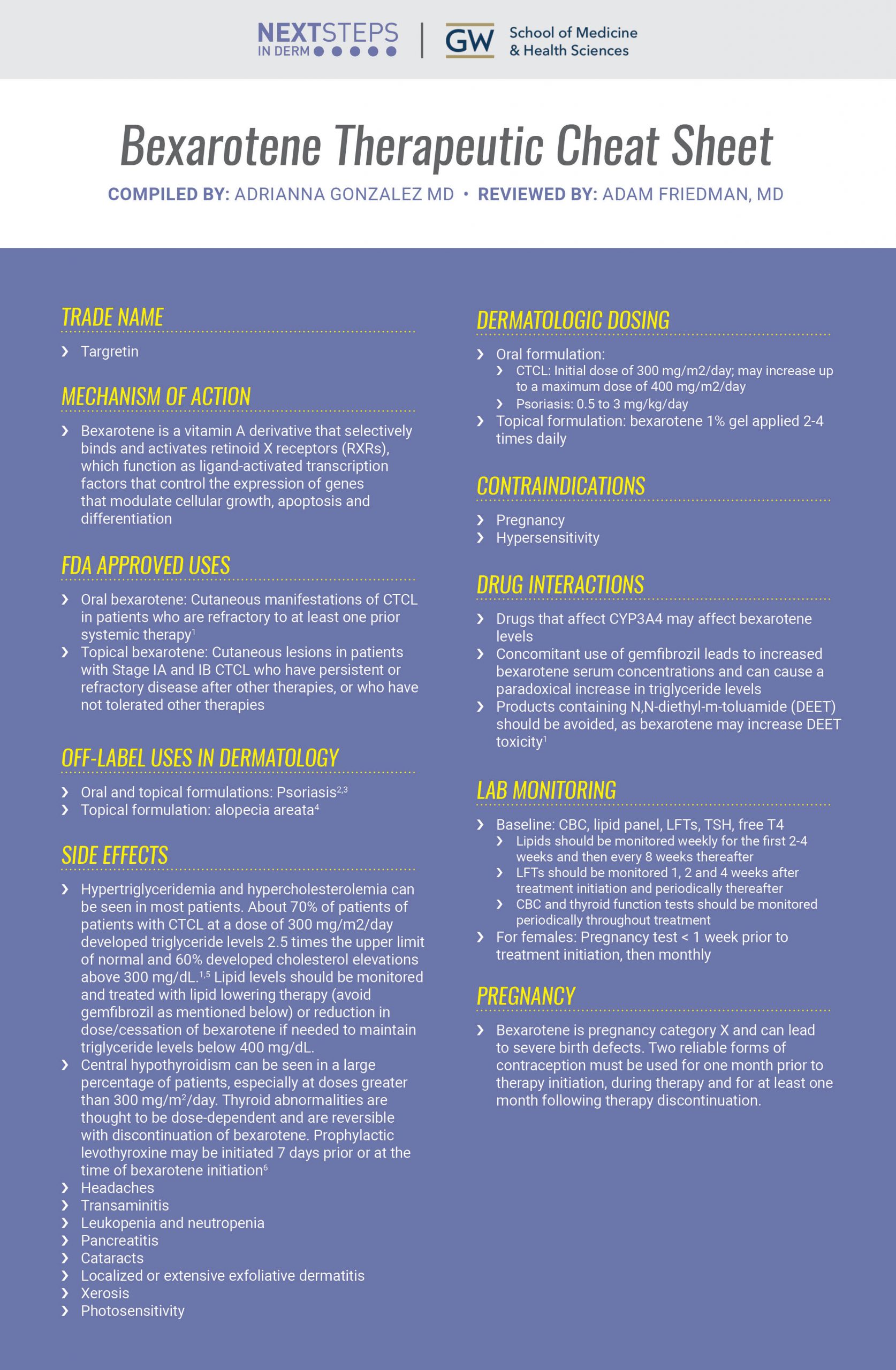 Oral and topical formulations of bexarotene have demonstrated efficacy when used for CTCL and psoriasis, providing an additional tool in our therapeutic arsenal. Patients should be closely monitored for adverse effects throughout therapy to ensure the safe use of this medication. 
Further Reading
If you would like to read more about bexarotene use in dermatology, check out the following articles published in the Journal of Drugs in Dermatology.
Bexarotene Gel; A New Skin-Directed Treatment Option For Cutaneous T-Cell Lymphomas
ABSTRACT
Cutaneous T-cell lymphomas (CTCLs) are a relatively uncommon group of lymphoproliferative disorders in which a malignant population of T cells is localized to the skin at presentation. Of the 4 classic CTCL phases (patches, infiltrated plaques, tumors, Sézary syndrome), the majority of patients present with early stage patch or plaque disease, which can usually be effectively managed using skin-directed therapies. Traditional skindirected therapies include topical corticosteroids, topical chemotherapeutic agents (mechlorethamine, carmustine), electron beam therapy (local and total skin), and phototherapy (UV-A, UV-B). Each of these has demonstrated efficacy in early stage disease; however, with the exception of topical corticosteroids, all have some disadvantages and are associated with significant adverse events, particularly secondary skin malignancies and skin damage. Bexarotene is a synthetic retinoid analog that selectively activates retinoid X receptors. In clinical trials, bexarotene gel demonstrated efficacy for the topical treatment of cutaneous lesions in patients with stage IA or IB CTCL who have refractory or persistent disease following other therapies or who cannot tolerate other therapies. Initial evidence indicates that bexarotene gel may be active as first-line therapy in early stage disease. Its role in combination with other treatments remains to be determined. Topical bexarotene gel is generally well tolerated and offers patients greater convenience compared with traditional skin-directed therapies, with a flexible administration regimen. The availability of bexarotene gel provides patients and physicians with a new skin-directed treatment option for early stage CTCL. Read the full article here.
Follicular Mycosis Fungoides: Successful Treatment with Oral Bexarotene
ABSTRACT
Follicular mycosis fungoides, a subtype of cutaneous T-cell lymphoma, is often difficult to treat. We present a case of a female with follicular mycosis fungoides who showed an excellent response to low-dose (150 mg/m2) oral bexarotene (Targretin). To our knowledge, this is the first reported case of follicular mycosis fungoides demonstrating a response to bexarotene. Read the full article here.
References:
Valeant Pharmaceuticals North America. Targetrin (bexarotene) [package insert]. U.S. Food and Drug Administration website. https://www.accessdata.fda.gov/drugsatfda_docs/label/2015/021055s010lbl.pdf. Revised 2015. Accessed 2021.
Smit JV, de Jong EM, van Hooijdonk CA, Otero ME, Boezeman JB, van de Kerkhof PC. Systemic treatment of psoriatic patients with bexarotene decreases epidermal proliferation and parameters for inflammation, and improves differentiation in lesional skin. J Am Acad Dermatol. 2004;51(2):257-264.
Breneman D, Sheth P, Berger V, Naini V, Stevens V. Phase II clinical trial of bexarotene gel 1% in psoriasis. J Drugs Dermatol. 2007;6(5):501-506.
Talpur R, Vu J, Bassett R, Stevens V, Duvic M. Phase I/II randomized bilateral half-head comparison of topical bexarotene 1% gel for alopecia areata. J Am Acad Dermatol. 2009;61(4):592 e591-599.
Duvic M, Martin AG, Kim Y, et al. Phase 2 and 3 clinical trial of oral bexarotene (Targretin capsules) for the treatment of refractory or persistent early-stage cutaneous T-cell lymphoma. Arch Dermatol. 2001;137(5):581-593.
Pattan V, Schaab K, Sundaresh V. Bexarotene: A Rare Cause of Misleading Thyroid Function Tests. Cureus. 2020;12(11):e11591.
Did you enjoy this therapeutic cheat sheet? You can find more here.