Semaglutide is a glucagon-like peptide-1 (GLP-1) analog that was FDA-approved in 2017 for treatment of type II diabetes and in 2021 for treatment for chronic weight management in adults with obesity or overweight with at least one weight-related condition.1 Due to its longer duration of action, it is typically administered subcutaneously once weekly. The safety profile of semaglutide is similar to other GLP-1 agonists.2 The main reported adverse events associated with semaglutide were gastrointestinal including nausea, vomiting, diarrhea, abdominal pain, and constipation.2 Less than 1% of patients in an efficacy and safety trial reported a skin adverse event.2
CASE REPORTS
Case 1
A 75-year-old woman with a history of type II diabetes presented with an itchy rash on her legs, back, and chest for 3 months duration. The patient was started on semaglutide for her diabetes approximately 10 months prior to presentation. She reported using hydrocortisone cream on the lesions with minimal improvement. On physical exam, the patient had multiple 1-2 cm erythematous, scaly plaques located on the back, chest, and legs, some were excoriated with hemorrhagic crust (Figure 1). Few bullae were also present. Differential diagnosis at that time included a drug hypersensitivity reaction, and the patient was prescribed triamcinolone 0.1% ointment to apply to the affected areas. At her 1 month follow up appointment, only minimal improvement was noted. A shave biopsy of a lesion was then taken, and histological examination showed a subepidermal blister with eosinophils. A direct immunofluorescence test was also performed that was negative. Given the findings on histology, a drug-induced dermal hypersensitivity reaction was suspected and semaglutide was discontinued. At a follow up appointment 3 weeks after discontinuing semaglutide, the patient had not experienced any new lesions and old lesions were in the process of healing.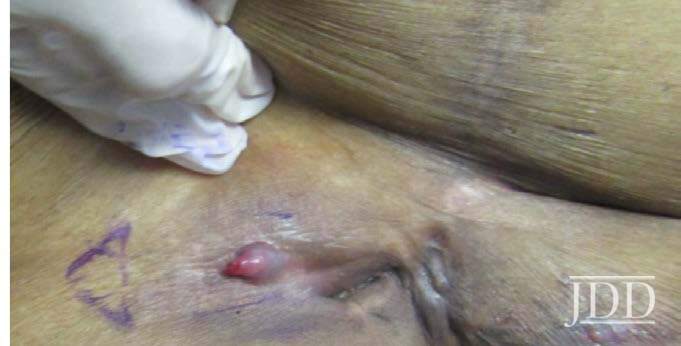 Case 2
A 74-year-old white man with a history of type II diabetes presented with an itchy rash on the bilateral flanks and lower abdomen for 3 weeks duration. The patient reported starting semaglutide for his diabetes approximately 1 month prior to presentation. On physical exam, there were multiple brownish pink papules coalescing into plaques with thin scale and lichenification present on the bilateral flanks extending to the back and mid-abdomen. The differential diagnosis at that time included irritant and allergic contact dermatitis and the patient was started on triamcinolone 0.1% ointment to apply to the affected areas. At his 1 month follow up, the patient reported that the rash had been continuing to spread and now involved his chest, legs, and arms (Figure 2). Patch testing was performed that was negative. A shave biopsy of a lesion was then taken, and the patient was started on a prednisone taper. Histological examination showed perivascular superficial and dermal chronic inflammatory cell infiltration associated with eosinophils and minimal spongiotic changes, and a direct immunofluorescence test was negative. Despite significant improvement with completion of a prednisone taper, the rash recurred. At that time, semaglutide was discontinued, and the patient had complete resolution of the rash by his follow up appointment 1 month later.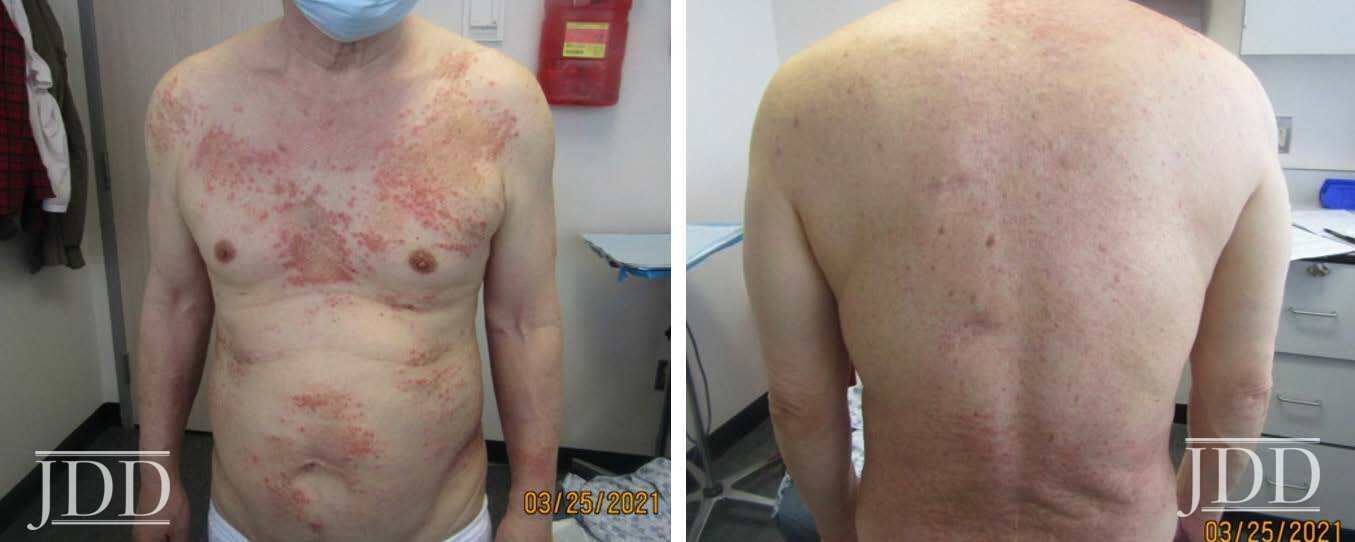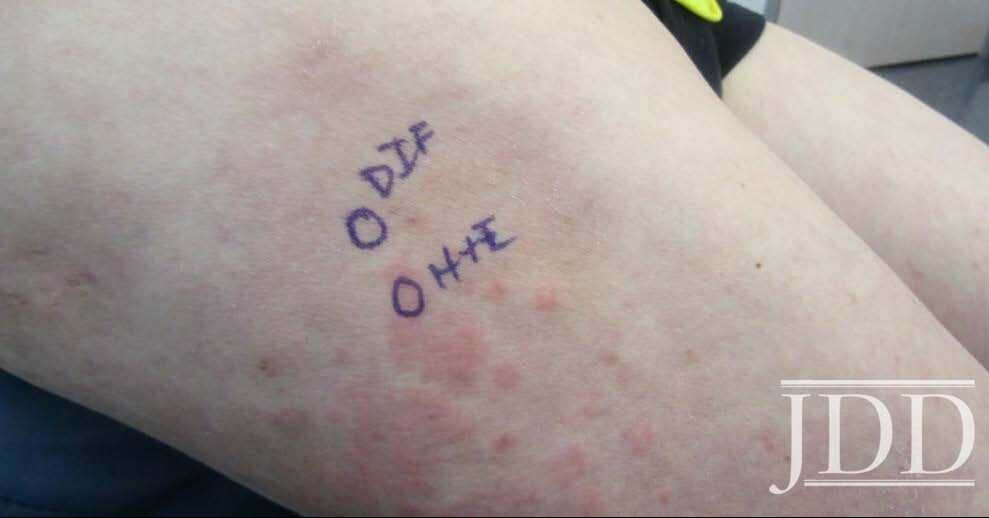 DISCUSSION
Type II diabetes is a complex disorder that often requires individualized treatment and treatment intensification as the disease progresses.2 Various oral and injectable therapies are available with the goal to improve glycemic control.2 GLP-1 is an incretin hormone produced by intestinal L cells that is responsible for up to 70% of insulin secretion in response to nutrient intake.3 However, the short half-life of native GLP-1 has limited its therapeutic use for diabetes.4 Efforts to extend the life of native GLP-1 led to the development of human GLP-1 analogs liraglutide, albiglutide, dulaglutide, and semaglutide.5 Liraglutide is injected once daily, while albiglutide, dulaglutide, and semaglutide are injected once weekly. These antihyperglycemic agents stimulate insulin secretion and inhibit the release of glucagon from pancreatic islets in a glucose-dependent manner.2 This helps lower glucose without the increased risk of hypoglycemia seen with other antidiabetic medications.2 Additionally, GLP-1 receptor agonists have the added benefit of weight loss.2 The development of these longer acting alternatives has allowed GLP-1 receptor agonists to become a promising therapeutic option for patients with diabetes.
While there have been no previous cases of dermal hypersensitivity reactions to semaglutide reported in the literature, there have been reported cases for other drugs in the GLP-1 receptor agonist class. For example, a report of a dermal hypersensitivity reaction to dulaglutide presenting as coalescing pink macules and papules in a morbilliform pattern has been reported.6 However, liraglutide has been the main drug in this class linked to skin reactions, with cases of exanthematous pustulosis in photo exposed areas, generalized erythematous plaques and nodules, and pruriginous macules at the injection site reported in the literature.7-10 The latter case was the only study to perform an intradermal skin test to confirm a delayed hypersensitivity reaction to liraglutide, to the authors' knowledge. Interestingly, in this patient, semaglutide was suggested as an alternative, and both a skin prick test and intradermal skin test performed to assess for hypersensitivity were negative. Although both are analogs of human GLP-1, there are a few molecular differences between these two agents that may be the reason that a hypersensitivity reaction occurred with liraglutide and not semaglutide.10
CONCLUSION
Here, JDD authors Samantha Ouellette, BA, Giulia Frias, BA, Radhika Shah, MD, PharmD, Mahin Alamgir, MD, and Cindy Wassef, MD report two cases of dermal hypersensitivity reactions to semaglutide. Given the previous report of hypersensitivity to liraglutide without a similar reaction to semaglutide, it is possible that other drugs in the GLP-1 agonist class may not cause the same reaction in these patients and may be used as an alternative.10 This is especially important as GLP-1 receptor agonists confer multiple benefits for patients with diabetes, including better glucose control and weight loss. However, further studies are needed to elucidate the safety of other drugs in the class for patients that experience a hypersensitivity reaction to one GLP-1 receptor agonist.
DISCLOSURES
Cindy Wassef, Radhika Shah, Mahin Alamgir, Samantha Ouellette, and Giulia Frias have no conflicts of interest to disclose.
REFERENCES
1. FDA Approves New Drug Treatment for Chronic Weight Management, First Since 2014. The U.S. Food and Drug Administration. Accessed October 5, 2021. https://www.fda.gov/news-events/press-announcements/fda-approves-new-drug-treatment-chronic-weight-management-first-2014
2. Aroda VR, Bain SC, Cariou B, et al. Efficacy and safety of once-weekly semaglutide versus once-daily insulin glargine as add-on to metformin (with or without sulfonylureas) in insulin-naive patients with type 2 diabetes (SUSTAIN 4): a randomised, open-label, parallel-group, multicentre, multinational, phase 3a trial. Lancet Diabetes Endocrinol. 2017;5(5):355-366.
3. Nauck MA, Heimesaat MM, Orskov C, Holst JJ, Ebert R, Creutzfeldt W. Preserved incretin activity of glucagon-like peptide 1 [7-36 amide] but not of synthetic human gastric inhibitory polypeptide in patients with type-2 diabetes mellitus. J Clin Invest. 1993;91(1):301-7.
4. Knudsen LB, Lau J. The discovery and development of liraglutide and semaglutide. Front Endocrinol (Lausanne). 2019;10:155-155.
5. Holst JJ. Long-acting glucagon-like peptide-1 receptor agonist-status December 2018. Ann Transl Med. 2019;7(5):83-83.
6. Rzepka PV, Kaffenberger JA. A case of morbilliform drug eruption to dulaglutide. J Clin Aesthet Dermatol. 2020;13(4):13.
7. Neel N, Ghobara Y, Turkmani M. Liraglutide-induced injection site reaction. J Dermatoly Dermatol Surg. 2019;23:97.
8. Cogen AL, Desai K, Elder D, et al. Acute photodistributed exanthematous pustulosis associated with liraglutide treatment. JAMA Dermatol. 2019;155(10):1198-1200.
9. Bovijn L, Arianayagam S, Asher R. An unusual case of a generalised cutaneous drug reaction to liraglutide. Eur J Dermatol. 2019;29(6):675-677. doi:
10.1684/ejd.2019.3691. 10. Carvallo A, Silva C, Gastaminza G, et al. Delayed hypersensitivity reaction to liraglutide: A case report. J Investig Allergol Clin Immunol. 2020;30(5):367-369.
SOURCE
Ouellette, Samantha, et al. "Dermal Hypersensitivity Reaction to Semaglutide: Two Case Reports." Journal of Drugs in Dermatology: JDD 22.4 (2023): 413-416.
Did you enjoy this JDD case report? You can find more here.