Psoriasis Awareness Month gives us access to internationally recognized clinician and researcher, Dr. Richard Fried. Dr. Fried is a board certified dermatologist and clinical psychologist whose area of expertise, among others, includes the interface between the skin and the mind.
If you have questions about the role that stress and other psychological issues play in psoriasis, email us at [email protected] or submit your questions here or here.
More About Richard Fried, MD, PhD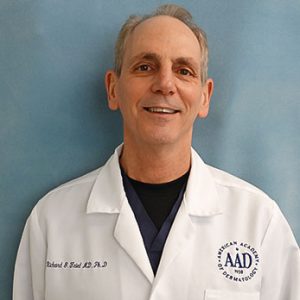 Dr. Richard G. Fried is an internationally recognized clinician, researcher, and teacher. After earning his Ph.D. with honors in clinical psychology, Dr. Fried went on to obtain his M.D. degree with honors from the State University of New York Downstate Medical Center. As a board certified dermatologist and clinical psychologist, Dr. Fried is a compassionate clinician who has written numerous publications in the areas of acne, psoriasis, rosacea, aging, cosmetic interventions including Botox, skin fillers, skin peels, and laser, as well as the psychological benefits of skin enhancements. Dr. Fried is also the author of Healing Adult Acne, your guide to clear skin & self-confidence (available on Amazon).
Did you enjoy this post? Find more Ask the Expert articles here.