November is Hyperhidrosis Awareness Month! Let's test your knowledge with a quick pop quiz!
Which of the following negative impacts are reported by those who suffer from hyperhidrosis (excessive sweating)?
A: Skin infections1
B: Physical discomfort2
C: Avoidance of public view, handshakes, and other forms of touch (pre-COVID-19, of course)2
D: Greater prevalence of depression and/or anxiety3
E: All of the above
Correct Answer
E: All of the above
All of the above negative impacts are common among the 4.8% of the population with hyperhidrosis (excessive sweating).4 There are other serious implications for people with this condition, too, including increased risks for attention deficit disorder,5 negative impacts on general health,4 dissatisfaction at work,2 and difficulties using computers, mobile phones, and touch screens.6
Learn more and find comprehensive diagnosis, treatment, and coverage/reimbursement information through the International Hyperhidrosis Society at SweatHelp.org. Get involved on Facebook @SweatingStopsHere, Twitter @WeKnowSweat, and Instagram @WeKnowSweat.
References
Walling HW. Primary hyperhidrosis increases the risk of cutaneous infections: a case-control study of 387 patients. J Am Acad Dermatol doi: 10.1016/j.jaad.2009.02.038
Kamudoni P, Mueller B, Halford J, Schouveller A, Stacey B, Salek MS. The impact of hyperhidrosis on patients' daily life and quality of life: a qualitative investigation. Health and Quality of Life Outcomes. 2017 15:121
Bahar R, Zhou P, Liu Y, Huang Y, Phillips A, Lee T, et al. The prevalence of anxiety and depression in patients with or without hyperhidrosis. J Am Acad Dermatol 75:6 (2016): 1126-1133.
Doolittle J, Walker P, Mills T, et al. Hyperhidrosis: an update on prevalence and severity in the United States. Arch Dermatol Res doi: 10.1007/s00403-016-1697-9. Published online October 15, 2016.
Glaser EN, Armbrecht ES, King R, Glaser DA. Prevalence of anxiety, depression and attention deficit disorder (ADD) in patients with primary hyperhidrosis. Poster presented at the 77th Annual Meeting of the American Academy of Dermatology, March 1-5, 2019, Washington, DC.
Hamm H et al. Primary focal hyperhidrosis: disease characteristics and functional impairment. Dermatology 2006 212 (2006):343-353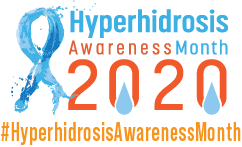 Brought to you by the International Hyperhidrosis Society.
Did you enjoy this article? Find more on Medical Dermatology topics here.