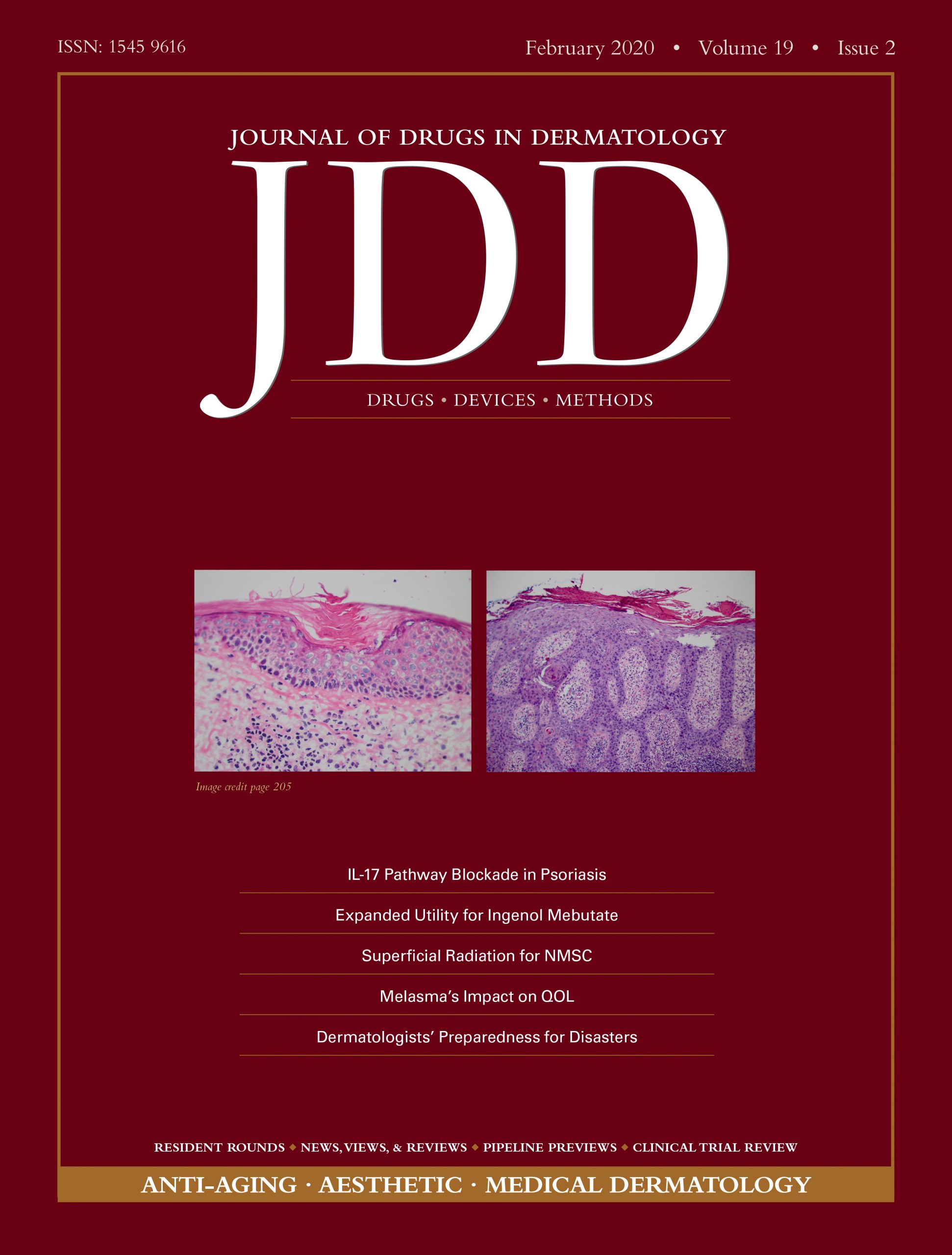 Here are the February JDD issue highlights:
Using patient cases, authors demonstrate how recent recommendations can be utilized and implemented in Systemic Therapies for Moderate-to-Severe Atopic Dermatitis: Expert Perspectives in Practice.
Effectiveness of SRT for treating BCC and SCC is evaluated in Superficial Radiation Therapy: A Viable Nonsurgical Option for Treating Basal and Squamous Cell Carcinoma of the Lower Extremities.
Authors elucidate the histopathology that corresponds to tumor involution in Histopathology of Basal Cell Carcinoma after Treatment With Vismogedib.
Natural Skin Care Products as Adjunctive to Prescription Therapy in Moderate to Severe Rosacea evaluates efficacy and tolerability.
With the advent of GEP assays and discovery of multiple subtypes, Is It Time to Rethink What Thickness Really Means a Prognostic Indicator in Melanoma? Ten Questions We Should Be Asking Ourselves.
Combination therapies demonstrate increased effectiveness in The Efficacy of Topical Minoxidil for Non-Scarring Alopecia: A Systematic Review.
A Review of the Dermatologic Symptoms of Idiopathic Mast Cell Activation Syndrome investigates the most common dermatologic manifestations.
Apremilast for the Treatment of Mild-to-Moderate Hidradenitis Suppurativa in a Prospective, Open-Label, Phase 2 Study presents a possible therapeutic option.
Safety, tolerability, PK, and efficacy are evaluated in Tavaborole 5% Topical Solution for the Treatment of Toenail Onychomycosis in Pediatric Patients: Results from a Phase 4 Open-Label Study.
Authors present a post hoc analysis in Novel Tretinoin 0.05% Lotion for the Once-daily Treatment of Moderate-to-Severe Acne Vulgaris in an Adult and Adolescent Female Population.
Cortexolone 17α-Propionate (Clascoterone) is an Androgen Receptor Antagonist in Dermal Papilla Cells In Vitro elucidates a potential mechanism of clascoterone in AGA.
Authors provide real world clinical experience and guidance on potential utilization in Applications of Topical Oak Bark Extract in Dermatology: Clinical Examples and Discussion.