Next Steps in Derm, in partnership with ODAC Dermatology, Aesthetic and Surgical Conference, interviewed Dr. Harold S. Rabinovitz (Professor of Dermatology at Medical College of Georgia) about the latest trends in managing facial melanoma. Watch as he unveils how doctors are better equipped to diagnose patients using new devices, plus the single treatment option he considers a game changer.
Further Reading
If you would like to read more about facial melanoma check out the following 3 articles recently published in the Journal of Drugs in Dermatology.

Dermoscopy and Reflectance Confocal Microscopy in Actinic Keratosis, Intraepithelial Carcinoma, and Invasive Squamous Cell Carcinoma
ABSTRACT
Background: Patients with multiple actinic keratosis (AK), have pre-neosplastic abnormalities, constituting the sites of new tumors, this region is called the cancerization field. Due to the risk of malignant transformation, rigorous evaluation, follow-up, and treatment of the cancerization field is proposed. Recently, non-invasive diagnostic technologies such as confocal reflectance microscopy (RCM), detect AK, intraepithelial carcinomas (IEC), and SCC, without the need of repeated biopsies. There are few reports of the progression of AK assessed by dermatoscopy and RCM concomitantly.
Objectives: Define morphological patterns and clinical applicability of dermatoscopy and MCR examinations of the AK lesions and their degrees of progression to IEC and SCC. Methods: A retrospective cross-sectional study of dermatoscopy and RCM examinations was performed in 30 patients with histopathological diagnosis of AK (20), IEC (6), and SCC (4). Results: In the comparative analysis of the dermatoscopic features, erythema was present in 100% of the lesions, the red pseudo-network in 75% of the AK (P=0.007), and linear and irregular vessels in 90% of the lesions of IEC/SCC. In the RCM of AK, the most striking finding was the presence of atypical honeycomb in the spinous layer, but typical in the granular layer. While the IEC/SCC group presented irregular epidermal architecture and atypical honeycomb in all epider-mal layers, it also showed a higher prevalence of individual corneocytes and nucleated cells, cellular pleomorphism, and nuclear atypia in the dermal papillae, irregular vessels within papilla, and cells with bright edges and dark central nuclei in the dermis. Conclusion: Dermoscopy and RCM may be considered as auxiliary methods for assessing lesions resulting from ke-ratinocyte atypia. The results of this study are consistent with published studies and it was possible to propose, with literature support, a model of progression of AK to IEC and SCC. Read the full article here.

SUPPLEMENT INDIVIDUAL ARTICLE: Skincare for Cancer Patients in Scandinavia
ABSTRACT
Preventive measures, earlier diagnosis, and markedly improved anticancer treatments have resulted in increasingly more patients living with or surviving cancer. Frequently cancer treatment-related cutaneous adverse events (cAEs) occur, which can severely impact patients' quality of life (QoL) and interfere with anticancer treatment outcomes. Currently, cAEs related to anticancer treatment may be under-appreciated to prevent or provide early and effective treatment. The Nordic European Cutaneous Oncodermatology Management (NECOM) project explored clinical insights in cAEs and focused on skincare regimens involving hygiene, moisturization, sun protection, and camouflage products. The NECOM panel discussed and reached a consensus on evidence and opinion-based best practice recommendations for oncology skincare programs to support all stakeholders in the Nordic European healthcare setting working with oncology patients throughout the entire continuum of care achieve optimal outcomes, improving patients' QoL. Read the full article here.

Combining Panitumumab With Anti-PD-1 Antibody in Cutaneous Squamous Cell Carcinoma of the Head and Neck After Inadequate Response to Anti-PD-1 Antibody Alone
ABSTRACT
Anti-epidermal growth factor receptor (EGFR) antibodies and anti-programmed cell death 1 protein (PD-1) antibodies have been used separately to treat metastatic cutaneous squamous cell carcinoma (cSCC). While two anti-EGFR antibodies have similar clinical activity, cetuximab is administered weekly, whereas panitumumab is administered every two weeks. This report details findings using panitumumab in combination with anti-PD-1 antibody in patients with relapsed refractory cSCC. Three consecutive patients with poor performance status and rapidly progressive recurrent cutaneous squamous cell carcinoma (cSCC) of the face or scalp signed informed consent to receive an anti-PD-1 antibody with the option to add panitumumab were there inadequate response. After 2, 5, and 7 cycles of anti-PD-1 antibody treatment, respectively, panitumumab was added and the combination was continued for 27, 7, and 5 cycles, respectively. Fatigue, rash, and hypomagnesemia were reported, consistent with expectations for either agent alone. All three patients achieved durable complete response. The favorable clinical outcomes support further evaluation of the combination of anti-PD1 and anti-EGFR antibodies to control refractory cSCC of the face or scalp. Read the full article here.
About Dr. Harold S. Rabinovitz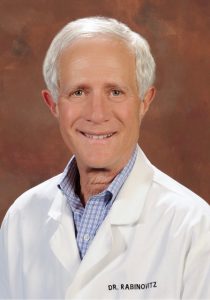 Harold S. Rabinovitz, M.D., is a Board-Certified Dermatologist with his office located in Plantation, Florida. He performed Mohs Micrographic Surgery, Skin Surface Microscopy, and Confocal Microscopy. Dr. Rabinovitz provides patients with the latest technology and expertise in the field of skin cancers. Dr. Rabinovitz graduated Cum Laude from Princeton University and received his medical degree from University of Miami School of Medicine. He performed his internship at Mt. Sinai Medical Center and completed his dermatology residency at New York University Medical Center. Dr. Rabinovitz served as Voluntary Clinical Professor of Dermatology at University of Miami School of Medicine. Presently, he serves as a part time professor teaching medical students and residents at the Medical College of Georgia.
Did you enjoy these video pearls? Find more here.