Next Steps in Derm, in partnership with ODAC Dermatology, Aesthetic and Surgical Conference, interviewed Dr. Vishal A. Patel (fellowship trained Mohs micrographic surgeon who serves as Director of Cutaneous Oncology at the GW Cancer Center and Director of Dermatologic Surgery at the GW Department of Dermatology) about routine skin cancer checks. Watch as he provides insight on this complex question, and compares screening the general population versus patients who may be higher risk.
Further Reading
If you would like to read more about skin cancer, check out the following 3 articles recently published in the Journal of Drugs in Dermatology.

Dermoscopy and Reflectance Confocal Microscopy in Actinic Keratosis, Intraepithelial Carcinoma, and Invasive Squamous Cell Carcinoma
ABSTRACT
Background: Patients with multiple actinic keratosis (AK), have pre-neosplastic abnormalities, constituting the sites of new tumors, this region is called the cancerization field. Due to the risk of malignant transformation, rigorous evaluation, follow-up, and treatment of the cancerization field is proposed. Recently, non-invasive diagnostic technologies such as confocal reflectance microscopy (RCM), detect AK, intraepithelial carcinomas (IEC), and SCC, without the need of repeated biopsies. There are few reports of the progression of AK assessed by dermatoscopy and RCM concomitantly.
Objectives: Define morphological patterns and clinical applicability of dermatoscopy and MCR examinations of the AK lesions and their degrees of progression to IEC and SCC.
Methods: A retrospective cross-sectional study of dermatoscopy and RCM examinations was performed in 30 patients with histopathological diagnosis of AK (20), IEC (6), and SCC (4).
Results: In the comparative analysis of the dermatoscopic features, erythema was present in 100% of the lesions, the red pseudo-network in 75% of the AK (P=0.007), and linear and irregular vessels in 90% of the lesions of IEC/SCC. In the RCM of AK, the most striking finding was the presence of atypical honeycomb in the spinous layer, but typical in the granular layer. While the IEC/SCC group presented irregular epidermal architecture and atypical honeycomb in all epider-mal layers, it also showed a higher prevalence of individual corneocytes and nucleated cells, cellular pleomorphism, and nuclear atypia in the dermal papillae, irregular vessels within papilla, and cells with bright edges and dark central nuclei in the dermis.
Conclusion: Dermoscopy and RCM may be considered as auxiliary methods for assessing lesions resulting from ke-ratinocyte atypia. The results of this study are consistent with published studies and it was possible to propose, with literature support, a model of progression of AK to IEC and SCC. Read the full article here.

Extrafacial Merkel Cell Carcinoma Presenting as a Cyst
ABSTRACT
Merkel cell carcinoma (MCC) is a rare, aggressive neuroendocrine skin tumor that presents as an erythematous or violaceous nodule in elderly white males with an extensive history of sun exposure. Herein, we report two cases of extrafacial MCC. On exam, lesions presented as a cystic nodule and a firm plaque. We summarize tools from literature review that may aid in earlier diagnosis of MCC as well as implications of primary tumor location in prognosis. In addition, we provide an algorithm for diagnostic workup. MCC is an aggressive malignancy with a poor prognosis and a high risk of local recurrence and nodal metastasis. It is imperative to include MCC in differential diagnosis of cyst/nodule in order to facilitate early detection.  Read the full article here.

Proliferating Pilar Tumor: Two Cases and a Review of the Literature
ABSTRACT
Trichilemmal cysts (TCs) are the most common cystic lesions arising on the scalp and up to 2% give rise to a proliferating trichilemmal tumor (PTT). A rare subset of PTTs are termed malignant due to their histologic characteristics, aggressive behavior and potential for metastasis. The histological hallmark of TCs and PTTs is the absence of a granular layer resulting in abrupt trichilemmal keritanization. Read the full article here.
About Dr. Vishal A. Patel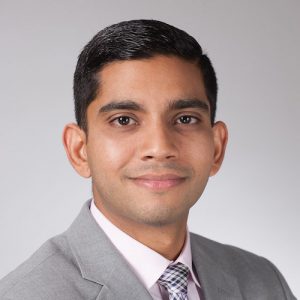 Dr. Vishal A. Patel is a board-certified dermatologist and fellowship trained Mohs micrographic surgeon who specializes in cutaneous oncology and reconstructive surgery. He is an Assistant Professor of Dermatology and Oncology at the George Washington University School of Medicine & Health Sciences. He serves as the Director of Cutaneous Oncology at the GW Cancer Center and the Director of Dermatologic Surgery at the GW Department of Dermatology. He is a fellow of the American Society of Dermatologic Surgery, the American College of Mohs Surgery, and the American Academy of Dermatology. Dr. Patel is an expert in cutaneous oncology include Mohs micrographic surgery for melanoma, high risk squamous cell and basal cell carcinomas, Merkel cell carcinoma, complex reconstructive surgery, and the medical management of high-risk skin cancers in immunocompromised patients. His research interests focus on the medical and surgical management of high-risk squamous cell carcinoma.
Did you enjoy these video pearls? Find more here.