Just as systemic lupus erythematosus (LE) can have protean systemic manifestations, cutaneous LE can present in many different ways. When confronted with the many faces of mucocutaneous LE, the following pearls can be valuable.
1. Be Aware of the SLICC Criteria
In 2012, the Systemic Lupus International Collaborating Clinics (SLICC) developed a set of clinical and immunologic criteria to assist in the diagnosis of systemic LE.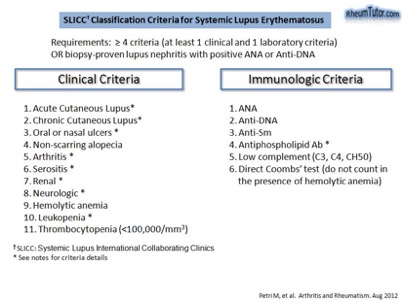 To meet criteria for systemic LE, a patient must fulfill at least four criteria, with at least one clinical criterion and one immunological criterion OR have biopsy-proven lupus nephritis in the presence of ANA or anti-dsDNA antibodies. Of the 11 clinical criteria, 4 are mucocutaneous: (1) acute or subacute cutaneous LE; (2) chronic cutaneous lupus; (3) non-scarring alopecia; and (4) oral or nasal ulcers. Of note, the dermatologist doesn't just establish the diagnosis of cutaneous LE, but can also determine the specific types of autoantibodies the patient is forming as well as if the patient has systemic involvement (e.g. hematologic or renal abnormalities). Remember the latter requires a urinalysis in addition to bloodwork. Acute cutaneous LE is more closely associated with systemic LE than subacute cutaneous LE, which in turn is more closely associated with systemic LE than discoid LE. The cutaneous manifestations of LE per the SLICC classification scheme are as follows:
Acute cutaneous lupus
Lupus malar rash (does not count if malar discoid)
Bullous eruption of systemic LE
Toxic epidermal necrolysis variant of systemic LE [also sometimes referred to as acute syndrome of apoptotic pan-epidermolysis (ASAP)]
Maculopapular lupus rash
Photosensitive lupus rash in the absence of dermatomyositis
Subacute cutaneous lupus
Chronic cutaneous lupus
Classic discoid LE
localized (above the neck)
disseminated (above and below the neck)
Hypertrophic (verrucous) LE
Mucosal LE
Lupus panniculitis (profundus)
LE tumidus
Chilblain lupus
Discoid LE/lichen planus overlap
2. A Positive ANA Does Not Equate to Systemic LE.
While ANA titer is positive in nearly all patients with systemic LE, not all patients with a positive ANA titer have LE. A sizeable portion of healthy individuals has a positive ANA titer, in particular titers of 1:40 and 1:80. Although the sensitivity of the assay rose with the introduction of a human, rather than rodent, substrate, its specificity declined.
3. Neonatal LE is More Than Just the Heart.
When physicians think of neonatal LE, they often zero in on the most life-threatening complication – congenital heart block. Dermatologists can play a key role in the care of these patients, not just by making the diagnosis based upon cutaneous findings, but by reminding the team of additional systemic manifestations. These infants are more likely to have bone marrow suppression (27% of patients in one series, with neutropenia > anemia and thrombocytopenia) or hepatitis (26% of patients in the same series) than they are to have congenital third-degree heart block (1.6% of patients) (J Pediatr 2003;142:678–83). While the gradual decrease of the mother's pathogenic SSA and SSB antibodies over approximately six months will eventually lead to no new cutaneous lesions, stigmata such as telangiectasias and hypopigmentation can persist. It is important to counsel the family regarding this natural history.
4. Embrace the Clinical Overlap.
While there are multiple classic presentations of cutaneous LE, sometimes patients with cutaneous LE have features that overlap with other skin diseases. Examples include discoid LE and lichen planus as causes of scarring alopecia as well as the similar appearances of annular lesions of Sjogren's syndrome, lupus tumidus, and Jessner's benign lymphocytic infiltrate. The latter disorders likely exist along a spectrum. A dermatologist's strong foundation in the pathophysiology of autoimmune connective tissue disease should lead to a logical approach to the differential diagnosis and treatment in patients with suspected cutaneous LE.
This information was presented by Dr. Jean Bolognia at the 16th Annual ODAC Dermatology, Aesthetics and Surgical Conference held January 18th-21st, 2019 in Orlando, FL.  The above highlights from her lecture were written and compiled by Dr. Daniel Yanes,  one of the 5 residents who participated in the Sun Resident Career Mentorship Program (a program supported by an educational grant from Sun Pharmaceutical Industries, Inc.).