Next Steps in Derm, in partnership with ODAC Dermatology, Aesthetic and Surgical Conference, interviewed Dr. Vishal A. Patel,  (fellowship trained Mohs micrographic surgeon who serves as Director of Cutaneous Oncology at the GW Cancer Center and Director of Dermatologic Surgery at the GW Department of Dermatology) about how Artificial Intelligence (AI) can help clinicians. Watch as he discusses AI technology's role in skin cancer, from screening and detection to treatment and biopsies.
Further Reading
If you would like to read more about the role of Artificial Intelligence (AI) in dermatology, check out the following two articles recently published in the Journal of Drugs in Dermatology.

Perceptions of Artificial Intelligence Integration into Dermatology Clinical Practice: A Cross-Sectional Survey Study
ABSTRACT
Background: Artificial intelligence (AI) is a growing field in dermatology and has great potential for integration into clinical practice. Our objective was to assess the perceptions of artificial intelligence in dermatology practice.
Methods: An IRB-approved 18-question online survey was distributed by email. Patients were stratified by age to assess for statistical differences among perceptions.
Results: 90 respondents fully completed the survey. 54 (60.0%) respondents were slightly familiar with AI, and 73 (81.1%) respondents have not incorporated AI into their clinical practice. 27.8% of respondents perceived AI as superior to a human provider's experience some of the time. 94.4% of respondents would at least use AI for certain scenarios. 65.6% of respondents believed that AI would help patients with analyzing and managing electronic health records. 38.9% respondents predict that AI will not decrease or increase the need for dermatologists. 51.6% of respondents felt that AI will at least somewhat enhance the dermatologists' ability to screen skin lesions. The three dermatology areas that AI was perceived to most beneficial were malignant skin lesions, benign skin lesions, and pigmentation disorders. Age of respondents did not have a significant impact on the perceptions of AI.
Conclusion: Our results show that dermatologists surveyed were generally positive toward embracing AI integration into clinical practice. Further studies should be conducted to confirm these findings. Read the full article here.
J Drugs Dermatol. 2022;21(2):135-140. doi:10.36849/JDD.6398

Artificial Intelligence in the Evaluation of Telemedicine Dermatology Patients
ABSTRACT
Background: Background: Early detection of malignant skin lesions reduces morbidity. There is increased need for a telemedicine triage tool to prioritize patients who require in-person evaluation for potential malignancy.
Objective: To evaluate the utility of artificial intelligence (AI) in telemedicine triage and diagnosis of cutaneous lesions.
Methods: Clinical photographs of unbiopsied skin lesions were presented to AI software and three board-certified dermatologists with 18 years average clinical experience. Diagnoses were compared with biopsy reports of the same lesions.
Results: Results from 100 images revealed no significant diagnostic difference between AI and a panel of three dermatologists when using the AI top three differential diagnoses. The AI correctly identified 63% of the cases whereas the dermatology group correctly identified 64.3% of the cases (P<.05). In summary, there was no statistically significant difference when evaluating lesions.
Conclusion: The use of artificial intelligence as a method of triaging patients with potential skin cancer is a very useful option in telemedicine, as AI identification of BCC, SCC, and melanoma did not significantly differ from board-certified dermatologists. Both dermatologists and non-dermatologists will benefit from an AI triage system, prioritizing lesions that the software deems malignant. Read the full article here.
J Drugs Dermatol. 2022;21(2):191-194. doi:10.36849/JDD.6277
About Dr. Vishal A. Patel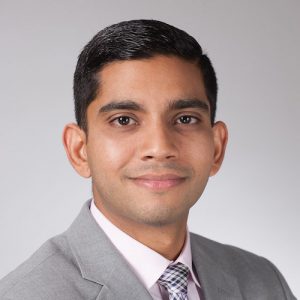 Dr. Vishal A. Patel is a board-certified dermatologist and fellowship trained Mohs micrographic surgeon who specializes in cutaneous oncology and reconstructive surgery. He is an Assistant Professor of Dermatology and Oncology at the George Washington University School of Medicine & Health Sciences. He serves as the Director of Cutaneous Oncology at the GW Cancer Center and the Director of Dermatologic Surgery at the GW Department of Dermatology. He is a fellow of the American Society of Dermatologic Surgery, the American College of Mohs Surgery, and the American Academy of Dermatology. Dr. Patel is an expert in cutaneous oncology include Mohs micrographic surgery for melanoma, high risk squamous cell and basal cell carcinomas, Merkel cell carcinoma, complex reconstructive surgery, and the medical management of high-risk skin cancers in immunocompromised patients. His research interests focus on the medical and surgical management of high-risk squamous cell carcinoma.
Did you enjoy these video pearls? Find more here.