Welcome to our new series, Therapeutic Cheat Sheet, wherein we take a deep dive into the literature and guidelines to give you a quick reference on the use of new or complex therapies.  This series will become your go-to for information about dosing, potential interactions and laboratory monitoring, just to name a few.  First up: Tofacitinib.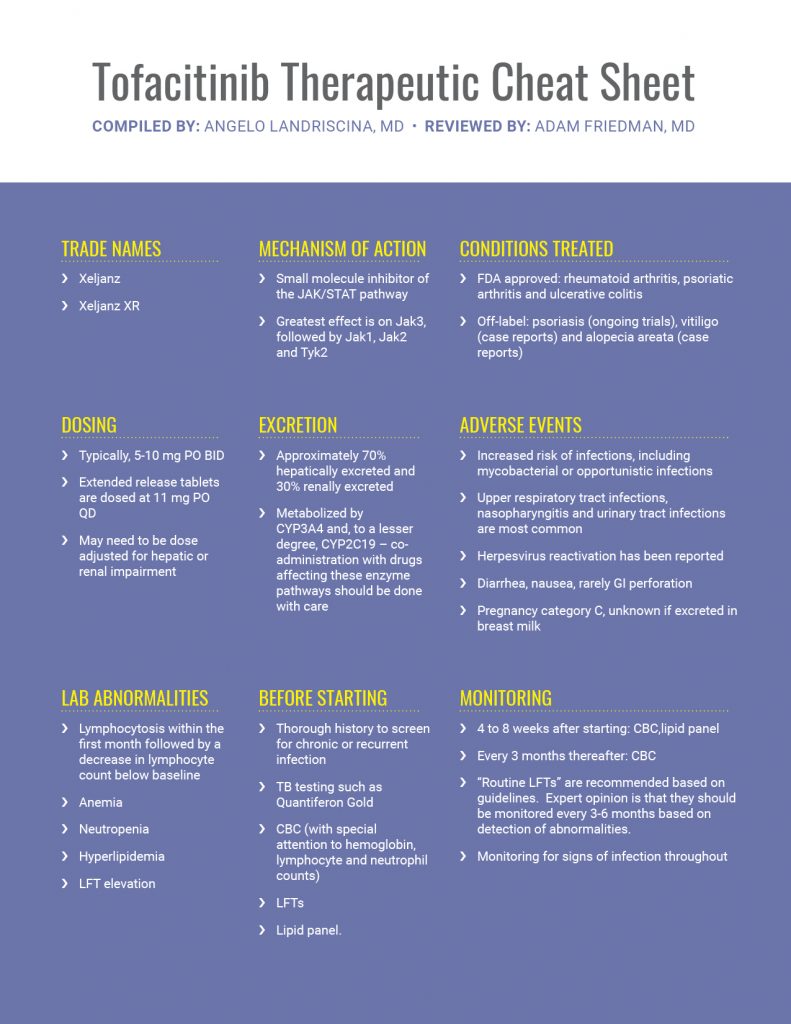 If you would like to read more about Tofacitinib and its off-label use for the treatment of Alopecia Areata,  here are two recent case reports published in the Journal of Drugs in Dermatology:
Successful Treatment of Severe Alopecia Areata With Oral or Topical Tofacitinib
Michelle W. Cheng BS, Amy Kehl MD, Scott Worswick MD, Carolyn Goh MD
Alopecia areata is an autoimmune disease involving the hair follicle with a chronic, relapsing course. Tofacitinib is Janus kinase inhibitor approved for treatment of rheumatoid arthritis that has been shown to be effective in treatment of alopecia areata. We present a case series of 11 patients with severe alopecia areata on longstanding, regular to high dose oral tofacitinib with marked hair regrowth. Additionally, we present a case of moderate to severe alopecia areata successfully treated with topical tofacitinib cream. J Drugs Dermatol. 2018;17(7):800-803.
An Excellent Response to Tofacitinib in a Pediatric Alopecia Patient: A Case Report and Review
Liza Brown DO and Stanley Skopit DO MSE FAOCD FAAD
Did you enjoy reading this post? If so, find more articles on Medical Derm here.