Google Search is an important tool for patients researching skin care treatments and looking for dermatologists.  Data from the 3 billion daily Google searches1 can be used to trend epidemiological patterns within populations using Google Trends (https://trends.google.com/trends; Alphabet Inc.), which reports search volume as relative to the total number of queries performed within a specific period or region. This tool has already been mobilized in dermatology to understand patterns in tanning,2 melanoma outcomes,3 and interest in Mohs surgery.4 In other industries, such as the automotive, real estate, retail, and travel industries, Google Trends is used regularly to forecast consumer demand.4
C.C. Motosko, G.A. Zakhem, R.S. Ho, et al from NYU Langone Health, New York, NY conducted a study where they applied Google Trends to correlate relative search volume with patient demand for botulinum toxin and hyaluronic acid fillers.
The authors used the keyword botox to quantify searches for botulinum toxin type a and [Hyaluronic acid + Juve-derm + Perlane + Restylane + Prevelle] for hyaluronic acid soft tissue fillers. Queries were limited to those performed within the United States from January 1, 2005 through December 31, 2016; all query categories were used. The following data was obtained: relative search volume (RSV) over time, RSV among states, and related queries searched for with the above terms.
The number of procedures performed using botulinum toxin and hyaluronic acid soft tissue fillers correlated significantly with RSV in both the same year and year prior. The most frequently searched related queries and the regions with greatest search volumes for both procedures are reported in Figure 1. Those searching for botulinum toxin most commonly searched for information on:
Cost
Side effects
Cosmetic results
Reviews of the treatment
Those searching for hyaluronic acid explored differences between brands and formulations. Florida was identified as the state with the highest RSV for both search queries.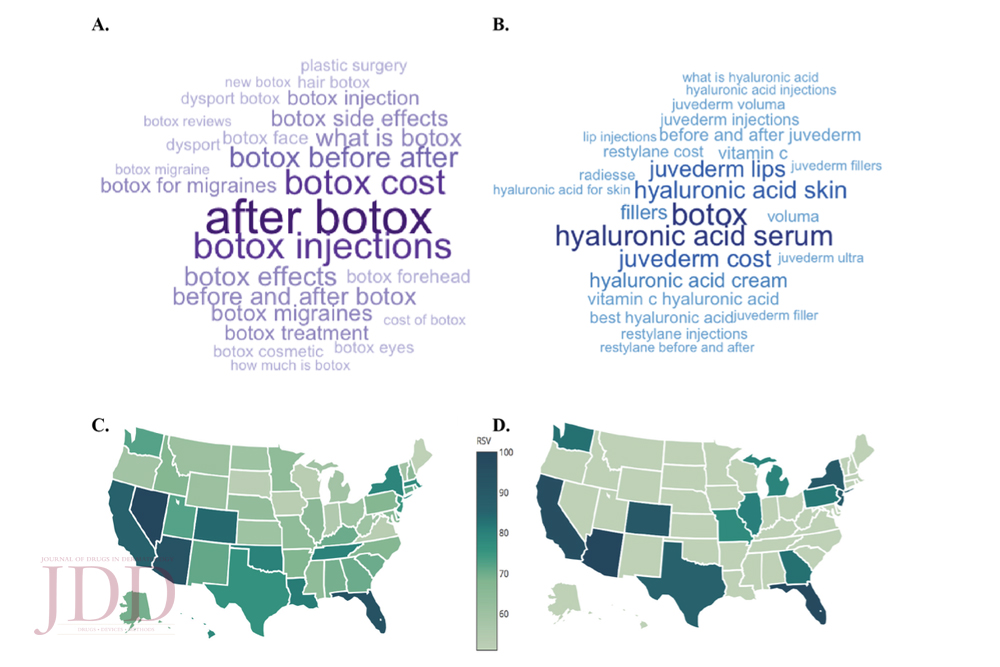 The authors findings highlight the importance of Google search data as a resource for understanding patient motivations and behavior. Dermatologists may use this resource as a tool to better address patient concerns and forecast local demand for specific procedures.
References:
1. Kirchberger MC, Heppt MV, Eigentler TK, Kirchberger MA, Schuler G, Heinzerling L. The tanning habits and interest in sunscreen of Google users: what happened in 12 years? Photodermatol Photoimmunol Photomed. 2017;33(2):68-74.
2. Bloom R, Amber KT, Hu S, Kirsner R. Google Search Trends and Skin Cancer: Evaluating the US Population's Interest in Skin Cancer and Its Association With Melanoma Outcomes. JAMA Dermatol. 2015;151(8):903-905.
3. Callaghan DJ, 3rd. Use of Google Trends to Examine Interest in Mohs Micrographic Surgery: 2004 to 2016. Dermatol Surg. 2018;44(2):186-1924.
4. Varian H CH. Official Google Research Blog: Predicting the Present With Google Trends. http://googleresearch.blogspot.com/2009/04/predicting-present-with-google-trends.html. Accessed November 3, 2017.
5. Surgeons ASoP. Plastic Surgey Statistics.
Source: Motosko, C., Zakhem, G., Ho, R., Saadeh, P., & Hazen, A. (2018). Using Google to Trend Patient Interest in Botulinum Toxin and Hyaluronic Acid Fillers. Journal of drugs in dermatology: JDD, 17(11), 1245-1246. Used with permission from the Journal of Drugs in Dermatology.
Did you enjoy this post? Find more on Aesthetic Derm here.