Herpesviridae is a family of ubiquitous viral pathogens leading to a wide array of diseases in humans, and includes viruses such as herpes simplex virus 1 (HSV-1) and 2 (HSV-2), herpes/varicella zoster virus (VZV), Epstein-Barr virus (EBV), cytomegalovirus (CMV) and herpes viruses 6 (HHV-6), 7 (HHV-7) and 8 (HHV-8). Mucocutaneous herpetic infections are frequently encountered in dermatology, and sometimes require prompt treatment to help prevent more serious complications such as keratitis, nerve palsies or post-herpetic neuralgia. In this month's installment of our Therapeutic Cheat Sheet series, we will discuss the use of valacyclovir for the treatment of herpetic infections in dermatology.
Valacyclovir Therapeutic Cheat Sheet
Compiled by: Adrianna Gonzalez, MD |  Reviewed by: Adam Friedman, MD
TRADE NAME
MECHANISM OF ACTION
Valacyclovir is the prodrug L-valyl ester of acyclovir, a purine nucleoside analogue with activity against human herpesvirus. Once ingested, valacyclovir is rapidly converted in vivo to acyclovir by plasma and hepatic esterase.1 Acyclovir is further converted to acyclovir triphosphate, a nucleotide analogue, by viral thymidine kinase and other cellular enzymes. Acyclovir triphosphate competitively inhibits viral DNA polymerase by incorporating itself into the growing DNA chain, leading to its termination. The bioavailability of acyclovir is 3-5-fold higher when given as valacyclovir than when given as acyclovir.
FDA INDICATIONS
Adults:2
Herpes labialis/orofacial herpes
Genital herpes

Treatment for recurrent or initial or episode in immunocompetent individuals
Suppression in immunocompetent or HIV-infected individuals
Reduction of transmission

Herpes Zoster/varicella zoster virus (VZV)
Pediatric patients:2
Herpes labialis/orofacial herpes
Chickenpox
OFF-LABEL USES IN DERMATOLOGY
Other cutaneous herpes simplex virus infections such as eczema herpeticum, herpetic whitlow, herpes gladiatorum
HSV-associated erythema multiforme (EM)3
Orofacial herpes prophylaxis following cosmetic treatments such as resurfacing lasers, chemical peels and injectable fillers
DOSING2
Herpes labialis/orofacial herpes (adults and pediatric patients): 2g twice daily for 1 day
Genital herpes:

Initial episode: 1g twice daily for 10 days
Recurrence: 500 mg twice daily for 3 days
Suppressive therapy

Immunocompetent: 1g daily or 500mg daily in patients with ≤ recurrences per year
HIV-infected patients: 500mg twice daily

Reduction of transmission: 500mg once daily

Herpes zoster: 1g three times daily for 7 days
Chickenpox (pediatric patients ages 2-18): 20mg/kg 3 times daily for 5 days. Dose should not exceed 1g three times daily.
Orofacial herpes prophylaxis following facial cosmetic procedures: 500mg twice daily starting 1-2 days prior to procedure and continuing for 5-10 days post-procedure.4
Valacyclovir has also been used to help prevent recurrent HSV-associated EM. Treatment can be initiated at a dose of 500mg twice daily for 5-10 days, followed by a prophylactic dose of 500mg daily for several months, until patients have been free of recurrence for at least 3-4 months.3,5
Of note, dosing should be reduced in patients with significant renal insufficiency (creatinine clearance < 50). Dosing will vary based on intended dosing regimen and creatinine clearance.
ADVERSE EFFECTS
Headaches
Nausea
Abdominal pain
Vomiting
Transaminitis and increased alkaline phosphatase (especially in HIV-infected patients)
Neutropenia (mostly reported in immunosuppressed patients with HIV or transplant recipients)6
Nasopharyngitis
Some reported cutaneous adverse reactions include: urticaria7, fixed drug eruption8, drug induced hypersensitivity syndrome (DIHS)9, exanthematous drug eruptions10 and photosensitivity.
Hypersensitivity reaction
Nephrotoxicity
Less commonly reported adverse effects include: diarrhea, dysmenorrhea, leukopenia, thrombocytopenia, arthralgia, dizziness, fatigue, depression, aggressive behavior, psychosis, confusion, seizures (may lower seizures threshold), rhinorrhea, fever, decreased hemoglobin
PRECAUTIONS/CONTRAINDICATIONS
Precautions:

Thrombotic thrombocytopenic purpura (TTP)/hemolytic uremic syndrome (HUS). Use of valacyclovir in higher doses (2g four times daily) has been associated with the development of TTP/HUS in patients with advanced HIV/AIDS11, renal transplant patients and allogeneic bone marrow transplant patients.2
Acute renal failure may occur in patients with underlying renal dysfunction, those taking other nephrotoxic medications, or patients inadequately hydrated. Patients with renal dysfunction may require dose adjustments and closer monitoring.2
Use with caution in immunosuppressed and elderly patients, as these patients are more likely to experience some of the more serious adverse effects. Additionally, development of drug resistance to valacyclovir is most commonly seen in immunosuppressed patients, such as those with HIV and transplant recipients.
Contraindication:

Hypersensitivity to valacyclovir, acyclovir or any component of the formulation2 
DRUG INTERACTIONS
Valacyclovir is a weak CYPA2 inhibitor and may increase drug levels of medications metabolized by this enzyme, such as: clozapine, tizanidine and theophylline derivatives
May decrease therapeutic effects of the varicella and zoster virus vaccines12,13
May decrease efficacy of talimogene laherparepvec14
PREGNANCY
Valacyclovir may be used during pregnancy and breastfeeding. There is no known risk of teratogenicity or infant harm based on limited human data.15
SAFETY MONITORING
A baseline creatinine may be warranted in certain patient populations
Valacyclovir is frequently used by dermatologists for the treatment of various herpetic mucocutaneous infections. Prompt initiation of antiherpetic drugs such as a valacyclovir may help prevent some of the deleterious complications associated with HSV and VZV infections. While caution should be taken when treating certain patient populations, valacyclovir is a safe, efficacious and well-tolerated antiviral medication.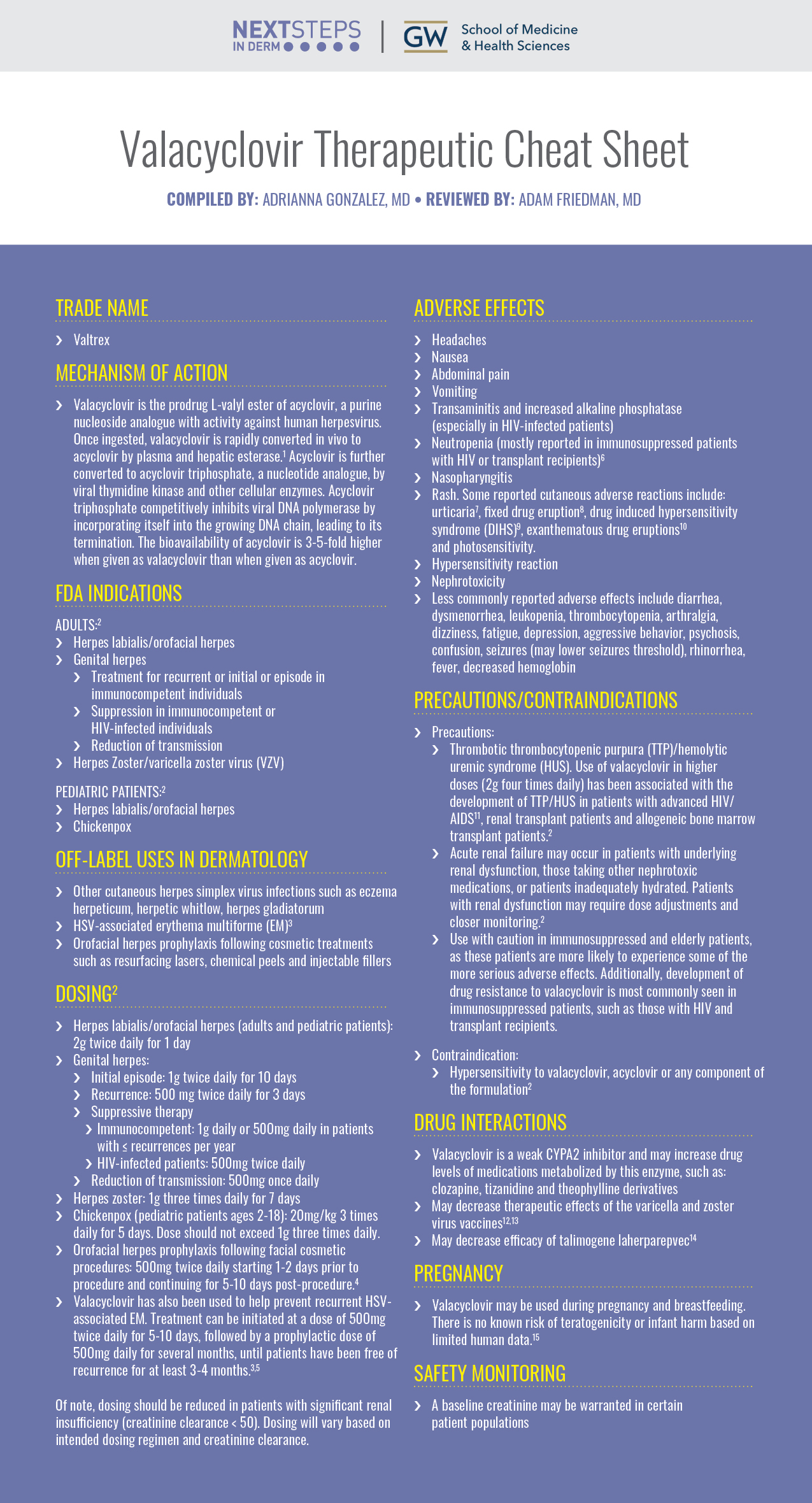 Further Reading
If you would like to read more about the use of valacyclovir in dermatology, check out the following articles published in the Journal of Drugs in Dermatology:
Suppressive Therapy versus Episodic Therapy with Oral Valacyclovir for Recurrent Herpes Labialis: Efficacy and Tolerability in an Open-Label, Crossover Study
Oral valacyclovir's efficacy and tolerability as suppressive therapy versus episodic therapy were compared for recurrent herpes labialis (RHL). Subjects with a history of at least 3 RHL episodes in the past year were randomized to receive 6 months of oral valacyclovir episodic therapy at the first sign of prodrome (two 2-g doses separated by 12 hours) and 6 months of oral valacyclovir suppressive therapy (1 g once daily) for 6 months in open-label, crossover fashion. The mean±SE number of recurrences per 120 days of follow-up (primary endpoint) was lower with suppressive therapy (0.30±0.41) than episodic therapy (0.71±0.79) (P<.005). The probability of remaining recurrence free over 6 months was significantly higher with suppressive therapy than episodic therapy. The median time to first recurrence was 81 days with episodic therapy and was not calculable (>180 days) for suppressive therapy (P=0.021). Data for secondary efficacy endpoints (pain severity score, mean duration of recurrences, maximal total lesion area) showed approximately a 30% to 50% reduction in mean values with suppressive therapy compared with episodic therapy, but results were statistically significantly different between the regimens for pain severity only. The percentage of subjects with at least one adverse event over 6 months of treatment that was considered to be drug related was 3% with suppressive therapy and 6% with episodic therapy. Suppressive therapy with oral valacyclovir was more effective than episodic therapy with oral valacyclovir in reducing the frequency of recurrences of herpes labialis and prolonging the time to first recurrence and was also similarly well-tolerated.
Background: Nonenergy and injectable treatments are frequently used for facial rejuvenation. Many publications have addressed methods to reduce adverse events related to the procedure; however, no algorithm exists on temporol before, during, and after measures for nonenergy and injectable treatments.
Methods: A panel of dermatologists and plastic surgeons convened a virtual meeting to develop an algorithm for measures before, during, and after nonenergy and injectable treatments based on the best available evidence and the panelists' experience and opinion. For the project, a Delphi method was applied, which was adapted from face-to-face meetings to a virtual meeting to discuss the outcome of literature searches to reach a consensus on the algorithm.
Results: The four sections of the algorithm address measures for optimizing outcome before, during, and after the procedure. Prevention includes avoiding excessive sun exposure and the use of a broad-spectrum sunscreen with an SPF 30 or higher. Before nonenergy-based and injectable treatments, the avoidance of alcohol, retinol peels, and agents such as acetylsalicylic acid and non-steroidal anti-inflammatory drugs, amongst other agents, is advised. Isopropyl alcohol, chlorhexidine, or hypochlorous acid (HOCl) prepare the skin before nonenergy and injectable treatments. The advisors recognize HOCL as particularly useful as it is active against bacterial, viral, fungal microorganisms and biofilm. The literature is inconsistent about the use of topical agents and skincare before and after the procedure.
Conclusions: The algorithm aims to support an optimal treatment outcome for their patients, providing physicians with guidance on measures before, during, and after nonenergy and injectable treatments.
J Drugs Dermatol. 2021;20:11(Suppl):s3-10.
References
Pouplin T, Pouplin JN, Van Toi P, et al. Valacyclovir for herpes simplex encephalitis. Antimicrob Agents Chemother. Jul 2011;55(7):3624-6. doi:10.1128/AAC.01023-10
GlaxoSmithKline. Valtrex (valacyclovir) [package insert]. U.S. Food and Drug Administration website. Revised 2019. Accessed 2023. https://www.accessdata.fda.gov/drugsatfda_docs/label/2019/020487s020lbl.pdf55. 2019;
Staikuniene J, Staneviciute J. Long-term valacyclovir treatment and immune modulation for Herpes-associated erythema multiforme. Cent Eur J Immunol. 2015;40(3):387-90. doi:10.5114/ceji.2015.54604
King M. Prophylaxis and Treatment of Herpetic Infections. J Clin Aesthet Dermatol. Jan 2017;10(1):E5-E7.
De Risi‐Pugliese T, Sbidian E, Ingen‐Housz‐Oro S, Le Cleach L. Interventions for erythema multiforme: a systematic review. Journal of the European Academy of Dermatology and Venereology. 2019;33(5):842-849. doi:10.1111/jdv.15447
Winston DJ, Yeager AM, Chandrasekar PH, et al. Randomized comparison of oral valacyclovir and intravenous ganciclovir for prevention of cytomegalovirus disease after allogeneic bone marrow transplantation. Clin Infect Dis. Mar 15 2003;36(6):749-58. doi:10.1086/367836
Singh SK, Prabhu A, Kumar A. Valacyclovir-induced urticaria without acyclovir hypersensitivity. Indian J Dermatol Venereol Leprol. Nov-Dec 2015;81(6):611-2. doi:10.4103/0378-6323.168346
Lee HJ, Kim JM, Kim GW, et al. Fixed drug eruption due to acyclovir, valacyclovir and famciclovir. J Eur Acad Dermatol Venereol. Aug 2016;30(8):1417-9. doi:10.1111/jdv.13261
Ingen-Housz-Oro S, Bernier C, Gener G, et al. Valaciclovir: a culprit drug for drug reaction with eosinophilia and systemic symptoms not to be neglected. Three cases. Br J Dermatol. Mar 2019;180(3):666-667. doi:10.1111/bjd.17207
Daito J, Hanada K, Katoh N, et al. Symmetrical drug-related intertriginous and flexural exanthema caused by valacyclovir. Dermatology. 2009;218(1):60-2. doi:10.1159/000167829
Feinberg JE, Hurwitz S, Cooper D, et al. A randomized, double-blind trial of valaciclovir prophylaxis for cytomegalovirus disease in patients with advanced human immunodeficiency virus infection. AIDS Clinical Trials Group Protocol 204/Glaxo Wellcome 123-014 International CMV Prophylaxis Study Group. J Infect Dis. Jan 1998;177(1):48-56. doi:10.1086/513804
Marin M, Guris D, Chaves SS, et al. Prevention of varicella: recommendations of the Advisory Committee on Immunization Practices (ACIP). MMWR Recomm Rep. Jun 22 2007;56(RR-4):1-40.
Harpaz R, Ortega-Sanchez IR, Seward JF, Advisory Committee on Immunization Practices Centers for Disease C, Prevention. Prevention of herpes zoster: recommendations of the Advisory Committee on Immunization Practices (ACIP). MMWR Recomm Rep. Jun 6 2008;57(RR-5):1-30; quiz CE2-4.
Corrigan PA, Beaulieu C, Patel RB, Lowe DK. Talimogene Laherparepvec: An Oncolytic Virus Therapy for Melanoma. Ann Pharmacother. Aug 2017;51(8):675-681. doi:10.1177/1060028017702654
Kang SH, Chua-Gocheco A, Bozzo P, Einarson A. Safety of antiviral medication for the treatment of herpes during pregnancy. Can Fam Physician. Apr 2011;57(4):427-8.
Did you enjoy this Therapeutic Cheat Sheet? You can find more here.