Next Steps in Derm, in partnership with ODAC Dermatology, Aesthetic and Surgical Conference, interviewed Dr.  Susan Weinkle about how the cosmetic dermatology field has grown thanks to a better understanding of patients' needs. Watch as she describes how products are being used in different and safer ways, and how as new products are being introduced in the market, dermatologists are now able to treat the entire body, as opposed to only the face.
Further Reading
If you would like to read more about cosmetic dermatology, check out the following 3 articles recently published in the Journal of Drugs in Dermatology.

Expert Recommendations on the Use of Hyaluronic Acid Filler for Tear Trough Rejuvenation
ABSTRACT
Restylane® Lidocaine is one of the most widely used hyaluronic acid (HA) fillers to replace lost or displaced volume during tear trough correction. Patient goals for tear trough correction include looking less tired or removing dark circles and this may be achieved by administering HA filler into the infraorbital region to correct the lower eyelid relative to the volume deficit, thereby smoothing the transition from the lower eyelid to the cheek. To achieve patient satisfaction and consistent results with Restylane, optimal application is essential; however, clinical guidance based on experience is limited. This paper reflects the recommendations of an interdisciplinary expert panel for the use of Restylane in correcting tear trough deformity, including patient selection, dosing, injection technique, and post-treatment care. Recommendations were discussed and agreed as a consensus, according to cross-sectional expertise and clinical experience. Read the full article here.

A Prospective, Multicenter Trial on the Efficacy and Safety of Poly-L-Lactic Acid for the Treatment of Contour Deformities of the Buttock Regions
ABSTRACT
Background: There is a significant emphasis on minimally invasive whole-body rejuvenation throughout the world. Recently, gluteal aesthetics have become an increasingly common patient concern. Although the application of poly-L-lactic acid (PLLA) to the face is already well known, there are relatively fewer publications on its use in other corporeal regions. This study aims to extend previous findings by evaluating the efficacy and safety of PLLA in the treatment of contour (including lifting) deformities of the buttock region. Methods: This was a prospective, multicenter (3 sites), single cohort, open-label clinical trial. Thirty female subjects were treated with PLLA in the bilateral buttocks, with three treatment sessions, each spaced one month apart and followed for six months after completion of the treatment regimen. At each visit, various safety and clinical efficacy parameters were collected, these included: Global Assessment of Improvement Scale (GAIS), subject satisfaction, skin hydration, elasticity, scaliness, roughness, and 3-dimensional imagery. Results: Six months following the last treatment, 84.00% of patients were rated as having "improved" or more on the physician assessed GAIS, accompanied by a 96.00% patient satisfaction rate. Approximately three vials of PLLA, per buttock and treatment were used. There were no serious adverse events throughout the duration of the trial, nor adverse events related to the investigational device. The most common subject-reported adverse events included pain during treatment (Mean: 70.97%) and bruising (Mean: 28.80%). Objective improvements were persistent after treatment in measurements of skin elasticity (improved 63.5% – 82.5% from weeks 16-32), hydration (increased ~11 Corneometer® units by week 16), roughness (decreased 36.95% at week 32), and scaliness (desquamation; decreased 60.41% at week 32). Conclusions: PLLA is safe and effective for the indication of buttock contouring and improving parameters of skin health. PLLA can provide long-lasting effects with a high level of patient and physician satisfaction. Read the full article here.

Combined Calcium Hydroxylapatite Plus Microfocused Ultrasound for Treating Skin Laxity of the Chest and Buttocks
ABSTRACT
Microfocused ultrasound with visualization (MFU-V) and a calcium hydroxylapatite dermal filler (CaHA) were both developed to meet the patient demand for a noninvasive but effective means for lifting and tightening of lax skin. Recently, there has been growing interest in the use of dilute (1:1) and hyperdilute (1:≥2) CaHA to achieve skin tightening and stimulating neocollagenesis, and the combined use of difference techniques to obtain optimum aesthetic outcomes. Here, two patients with Grade 3 chest laxity on the Décolleté Wrinkling Assessment scale improved by 2 grade points after two treatment sessions because increasing the tissue layers treated with MFU-V and adding an additional syringe of CaHA per 100 cm2. Similarly, two addition patients with Grade 3 scores on the Gluteus Laxity Scale improved by 2 grade points after two or three treatment sessions. Customizing the number and depth of MFU-V treatment lines and the amount of CaHA should be considered when making a treatment plan for patients with severe skin laxity. Similarly, it is important to consider body mass index (BMI) when treating body areas such as the gluteus and the potential need for volume correction. Read the full article here.
About Dr. Susan Weinkle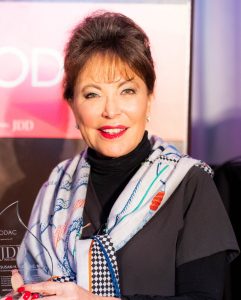 Susan H. Weinkle MD is board-certified in Dermatology.  She graduated summa cum laude from the University of Florida in 1974 and completed her residency in Dermatology at Stanford University Medical Center in 1982, where she held the position of Chief Resident.  Dr. Weinkle has been in solo private practice since 1984, specializing in Mohs Surgery and Cosmetic Dermatology.  She has held academic appointments at Stanford University Hospital, the University of California Irvine Medical Center, and, most recently, at the University of South Florida. Dr. Weinkle is affiliated with many professional organizations and societies. She has been on the Board of Directors and chaired numerous committees in organizations such as the American Academy of Dermatology, Dermatology Foundation, and Florida Society of Dermatology and Dermatologic Surgery.  Dr. Weinkle has served as vice-chairperson of the Dermatologic Foundation and has served on the board of trustees.  She served as president of the Women's Dermatologic Society and as president of the American Society for Dermatologic Surgery, and President of the Florida Society of Dermatologic Surgery.  She is currently an active member of the American Dermatological Association.
Did you enjoy these video pearls? Find more here.