JDD Podcast Recap & Ask the Investigator on Hyperhidrosis Treatment Innovation
Hyperhidrosis represents a great clinical challenge: it can be debilitating for patients, and treatment options are few.  In this edition of the JDD Podcast, Dr. Adam Friedman interviews Dr. Suneel Chilukuri, aninternationally recognized procedural dermatologist and the Director of Cosmetic Surgery at Refresh Dermatology in Houston, Texas.  They discuss Dr. Chilukuri's paper entitled, "Primary Axillary Hyperhidrosis Treatment Using High Intensity Focused Fractional Radiofrequency Microneedling". The paper appears in the July 2018 issue of the JDD.  Here are some highlights from their discussion:
On Dr. Chilukuri's paper in the JDD:
Radiofrequency microneedling uses flow needle technology to deliver energy in a precise manner deeply below the skin surface. In this way, heat can be generated without affecting the skin surface, avoiding pigmentary changes, especially in skin of color.
This treatment is FDA cleared for the treatment of facial wrinkles. Chilukuri's paper looks at its use in the treatment of primary axillary hyperhidrosis.
Previous studies into devices for hyperhidrosis tended to represent phototypes I-III to a much greater degree than types V and VI.  Having a device that is safe for treating patients of color is an important development.
Patients had a dramatic decrease, some by 80-90%, in symptoms of hyperhidrosis.
The investigators also compared punch biopsies pre and post-treatment.  They found that adnexal structures had shrunk after having undergone the treatment.
While radiofrequency microneedling has proven effective in Dr. Chilukuri's experience, it is still unclear how long its effects last.
Baseline to post-treatment images
Courtesy of the Journal of Drugs in Dermatology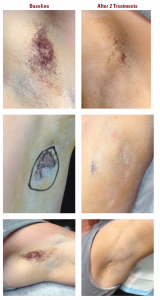 The Post—treatment images show S/I test results of qualitative improvement in sweating.  This is evidenced by a marked decrease in the size of the sweat-producing area from baseline to post-treatment.
On the clinical approach to patients with hyperhidrosis: 
Chilukuri starts by asking the patient what bothers them most about their excessive sweating — this helps him to assess the severity of symptoms, and whether the patient's hyperhidrosis is focal, multifocal or generalized.
He starts his therapeutic ladder for focal hyperhidrosis with topicals like aluminum chloride, moving up to oral medications like beta blockers, and then on to neuromodulatory procedures such as botulinum toxin injection.
Patients with multifocal or generalized hyperhidrosis will likely necessitate systemic medication along with an adjuvant topical or procedural treatment in breakthrough areas.
Friedman notes that in some cases it may be difficult to get insurance coverage for treatments higher on this ladder without trying less invasive options like topical treatment first.
Both Drs. Chilukuri and Friedman emphasize that hyperhidrosis can severely impact patients' quality of life, and that many are not aware of the range of treatment options that are now available.
Make sure to tune in and listen to the Podcast here.
Words from the investigator
George Washington School of Medicine and Health Sciences residents are given the chance to conduct a brief interview with study authors. This month, 2ndYear resident Dr. Misty Eleryan got up and close with Dr. Chilukuri, who offered additional insight into patient selection, advice for residents and young dermatologists, and the one book he thinks everyone should read.
Dr. Eleryan: In your own treatment of patients with primary hyperhidrosis, what factors do you consider when selecting patients for this treatment technique compared to traditional methods (such as oral/topical/injectables/machine)?
Dr. Chilukuri:Dr. As with any medical condition, I start with obtaining a comprehensive medical history which includes the social and psychologic effects of the patient's hyperhidrosis.  If there is no immediacy for the patient (i.e.— job interview, engagement, wedding, etc) and if the patient has not tried medical treatment, I start with the most conservative, least invasive, and least expensive option such as topical AlCl.  If the patient has failed this option, I consider the use of an oral agent.  I find that more than 50% of patients are pleased with the improvement from these conservative treatments.  If the patient is still bothered with excessive sweating, I recommend the use of injectable neuromodulators.  With the first injectable treatment, patients often see resolution of local hyperhidrosis for 5-7 months.  With consistent continued neuromodulator treatment, our patients have results lasting 9-12 months.  For those patients with success with injectables and are seeking longer results, I discuss the use of RF microneedling or microwave technology.
Dr. Eleryan: What is one piece of advice for current residents and young dermatologists?
Dr. Chilukuri: I recommend finding a dermatology mentor or multiple mentors.  During residency, visit and shadow as many dermatologists as possible.  Even after 15 years in private practice, I continue to seek the opportunity to visit colleagues as I always learn from those in and outside of our field.  If you are starting a new practice, I suggest not investing in any expensive technology until you gain an idea of what conditions your patients want treated.  For all new dermatology graduates, continue to live like a resident for the first few years.  Your rapid financial independence allows you so much more flexibility to seize opportunities in both your business and personal lives.
Dr. Eleryan: What is one book everyone should read?
Dr. Chilukuri: I recommend reading "The Millionaire Next Door".  If you have time to read a second book, read "The One Minute Manager".  In this book, you may find suggestions that are applicable to any business.  If you are looking to fine tune your practice, consider reading "From Good to Great" and see how you may apply these principles to your business and life.