Rosacea is a chronic inflammatory skin condition characterized by facial flushing, erythema, telangiectasias, and papulopustular lesions. Treatment for rosacea includes limiting inciting factors and reducing inflammation with topical and oral therapies. Traditional therapies primarily focus on the papulopustular or background erythematotelangiectatic component of rosacea, leaving symptoms of flushing poorly controlled and profoundly impacting the quality of life of patients. Neuromodulators have been speculated to improve the flushing component of rosacea by reducing mast cell degranulation and the release of neuropeptides. However, its use for symptomatic relief in refractory flushing rosacea has been limited by side effects such as facial muscle weakness or paralysis. JDD authors Channi Silence MS, Arianne Kourosh MD MPH, and Erin Gilbert MD PhD present the use of strategic placement of high-dose neuromodulators for treatment-resistant rosacea. This approach has resulted in the gradual stabilization of symptoms, improved quality of life, and superior side effect profile.
INTRODUCTION
Rosacea is a chronic inflammatory skin condition characterized by facial erythema, telangiectasias, and papulopustular lesions, reported in as high as 22% of the population.1,2 Most patients are diagnosed after the age of 30, with women and Caucasians being the most frequently affected groups.2 Although the pathophysiology of rosacea remains unclear, it appears to be multifactorial in etiology with UV radiation, nutrition, temperature, stress, and immune and neurovascular dysregulation all playing significant roles.3 While not curative, the management of rosacea focuses on limiting these triggers and reducing the duration and intensity of inflammation with topical and oral therapies.4 The majority of these therapies minimally improve the erythematotelangiectatic phenotype of rosacea which may require treatment with lasers or intense pulsed light.5 Botulinum toxin, with doses as high as 100 units, has also been used off-label to reduce erythema and flushing given its anti-inflammatory and inhibitory effects on neurotransmitters and neuropeptides and a resulting hypothetical effect on vasomotor tone. However, this has been met with variable efficacy and unwanted side effects observed in other protocols.1,6,7,8 We present a novel therapeutic protocol that employs high-dose neurotoxins for the treatment of refractory flushing rosacea with improved outcomes and absent side effect profile.
CASE REPORT
A 42-year-old female presented with severe recurrent episodes of erythema and flushing with occasional papulopustular lesions on the bilateral cheeks and forehead (Figure 1A-1C). She failed topical and oral therapies and opted to try off-label neuromodulators. AbobotulinumtoxinA was reconstituted in 1cc of bacteriostatic normal saline and a high-dose microdroplet regimen was initiated. A total of 150-180 units were administered to the affected areas as 3-6 units spaced 1 cm apart. Her symptoms remained well-controlled up to 2-4 months following each treatment (Figure 2A, 2B). Her treatments were eventually spaced to every 6 months after several years of using this dosing protocol (Figure 3).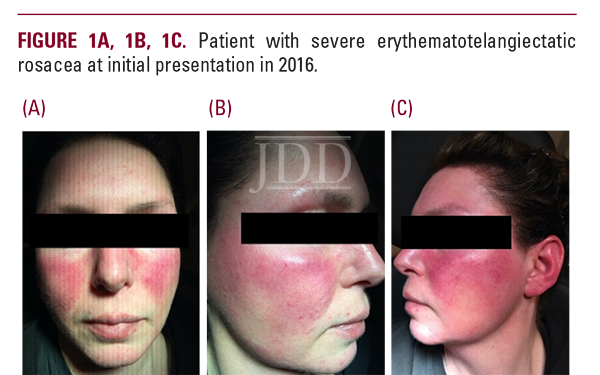 DISCUSSION
The high-dose microdroplet regimen was found to reduce the frequency of severe facial flushing and irritation. In addition to notable symptomatic relief, the treatment regimen gradually reduced skin hyperreactivity, which may signify neuropeptide and inflammatory mediator modulation by botulinum toxin type A. Mast cells are known effectors in neurogenic inflammation and have been implicated in the development of rosacea, with new reports demonstrating a significant reduction in mast cell degranulation after neurotoxin use.9,10,11 Previous studies have also shown that injection of intradermal neurotoxins in psoriasis treatment decreases inflammatory cells and neuropeptides with improvement of psoriatic plaques, highlighting the beneficial effects of inhibiting cutaneous nerve signaling.12 Here we present the use of high-dose neurotoxins for the treatment of severe flushing in erythematotelangiectatic rosacea. We hypothesize that neurovascular remodeling and  the downregulation of inflammatory mediators contribute to this symptomatic relief, with longer symptom-free periods and eventual complete stabilization of symptoms, as observed in this patient. Interestingly, previously reported incidences of facial paralysis were not observed despite our higher dose protocol.6 We attribute this to strict strategic placement of injections to avoid critical anatomic structures. Neuromodulators have been shown to be a safe and effective way to manage treatmentresistant rosacea, and their beneficial effects in inflammatory cutaneous conditions should continue to be investigated.
CONCLUSION
Rosacea can result in severe flushing and discomfort affecting the quality of life of patients. In severe cases, traditional oral and topical therapies may not sufficiently control symptoms. Alternative options such as neuromodulators have been used with success. However, they have been limited by their side effect profiles. When placed strategically, high dose neuromodulators may be a highly effective option in treating refractory flushing rosacea.
DISCLOSURES
The authors have no conflicts of interest or funding sources to declare. Consent for the publication of recognizable patient photographs or other identifiable material was obtained by the authors and included at the time of article submission to the journal stating that all patients gave consent with the understanding that this information may be publicly available.
REFERENCES
Sharma A, Kroumpouzos G, Kassir M, et al. Rosacea management: a comprehensive review. J Cosmet Dermatol. 2022;10.1111/jocd.14816. doi:10.1111/ jocd.14816.
Spoendlin J, Voegel JJ, Jick SS, et al. A study on the epidemiology of rosacea in the UK. Br J Dermatol. 2012;167(3):598-605. doi:10.1111/j.1365-2133.2012.11037.x.
Rainer BM, Kang S, Chien AL. Rosacea: epidemiology, pathogenesis, and treatment. Dermatoendocrinol. 2017;9(1):e1361574. doi:10.1080/19381980.2017.1361574.
Scheinfeld N, Berk T. A review of the diagnosis and treatment of rosacea. Postgrad Med. 2010;122(1):139-143. doi:10.3810/pgm.2010.01.2107.
Micali G, Gerber PA, Lacarrubba F, et al. Improving treatment of erythematotelangiectatic rosacea with laser and/or topical therapy through enhanced discrimination of its clinical features. J Clin Aesthet Dermatol. 2016;9(7):30-39.
Zhang H, Tang K, Wang Y, et al. Use of botulinum toxin in treating rosacea: a systematic review. Clin Cosmet Investig Dermatol. 2021;14:407-417. doi:10.2147/ CCID.S307013.
Dayan SH, Pritzker RN, Arkins JP. A new treatment regimen for rosacea: onabotulinumtoxinA. J Drugs Dermatol. 2012;11(12):e76-e79.
Gerber PA, Buhren BA, Steinhoff M, et al. Rosacea: The cytokine and chemokine network. J Investig Dermatol Symp Proc. 2011;15(1):40-47. doi:10.1038/ jidsymp.2011.9.
Steinhoff M, Buddenkotte J, Aubert J, et al. Clinical, cellular, and molecular aspects in the pathophysiology of rosacea. J Investig Dermatol Symp Proc. 2011;15(1):2-11. doi:10.1038/jidsymp.2011.7.
Choi JE, Werbel T, Wang Z, et al. Botulinum toxin blocks mast cells and prevents rosacea like inflammation. J Dermatol Sci. 2019;93(1):58-64. doi:10.1016/j. jdermsci.2018.12.004.
Schwab VD, Sulk M, Seeliger S, et al. Neurovascular and neuroimmune aspects in the pathophysiology of rosacea. J Investig Dermatol Symp Proc. 2011;15(1):53-62. doi:10.1038/jidsymp.2011.6.
Ward NL, Kavlick KD, Diaconu D, et al. Botulinum neurotoxin A decreases infiltrating cutaneous lymphocytes and improves acanthosis in the KC-Tie2 mouse model. J Invest Dermatol. 2012;132(7):1927-1930. doi:10.1038/jid.2012.60.
SOURCE
Silence, Channi, Arianne Kourosh, and Erin Gilbert. "Placement of High Dose Neurotoxins for Treatment-Resistant Rosacea." Journal of drugs in dermatology: JDD 22.6 (2023): 605-607.
Adapted from original article for length and style.
Did you enjoy this JDD case report? You can find more here.