One of the most talked-about causes of burnout, aside from how many of us are too tired even though we sleep at home instead of at the hospital, is dealing with the difficult patient. It is a paradox because customers choose to do business with a certain establishment, and customer service is a business idea developed to attract and retain profits.  However, a physician's obligation to patients does not translate to the language of customer service.  Although the business of medicine dictates that the Physician-Patient relationship is profit-driven, patients needing health care may positively, neutrally or even negatively affect revenue.  Moreover, patients may carry good, poor or no insurance but that does not matter when institutions are legally obligated to see them.  So how can a business model that is often controlled by external influences such as insurance companies, pharmacies, and the government, lead to physician performance being subjected to reviews?  It does not compute.1
So where do patient care end and customer service begin?  There is a fine line between customer service and people taking advantage of you.  Take solo practice for example…physicians that run the business make the rules, follow contractual obligations, and as a result, should never have to lose money on any claim because a patient threatens to tarnish the reputation of the clinic.  However, in this era of social media extortion and patients believing they are customers, practicing medicine is in the same conversation as going to restaurants in terms of evaluable outcomes.
Ironically, physicians do not have control over the time necessary for the prior authorization to be approved, or the extra pathology stain to be completed by the lab, or any of the other obstacles to meeting patient expectations, which are unreasonable if they truly believe they are customers.  Nevertheless, the ability to review healthcare is not going away, and it is reported that 88% of consumers trust online reviews as much as a personal recommendation and countless other studies have proved the same thing over and over again – "consumers" trust online reviews and those reviews heavily influence their "purchasing" decisions. In addition, 72% of consumers will make purchasing decisions after they have read a positive review. If a dermatologist can have both a high volume and a good score, then he or she becomes a preferred choice for many consumers…when choice actually is possible.2
As insidious as the presentation of physician burnout can be, it can be accelerated when the once sacred physician-patient bond gets compromised by external forces.  Other industries, especially the hospitality industry, face these issues routinely and have adapted methods for not only coping but advancing.  Customer-generated negative online reviews exert heavy burdens on hospitality employees and businesses, and research suggests that negative online reviews have adverse and diverse effects on restaurant industry employees and businesses. Negative online reviews that result in reduced customer patronage can exact a hefty toll on company profitability, but the human factor of adverse stress reactions, loss of face, damaged personal and professional relationships, and deflated morale, all can impact the core of the business as well.3
Literature from the hospitality industry discusses practical strategies that include four types of countermeasures to negative reviews (Figure 1): preventative, protective, positive and palliative.  Some of these can be translated to patient care models and clinics, all in the name of customer service.   Preventative measures are often learned and adopted from experiences (or horror stories) while protective measures involve balances of patience, kindness, and even swallowing pride in hopes of having a negative review taken down.  By contrast, positive and palliative measures are often reactions to the reviews and reviewer, and focus on maintaining morale and reminders of positive outcomes as well as ensuring that the reputation of the business is not compromised.  This often involves the recruitment of positive reviews from loyal patients even when it is not in the fabric of the practice or physician to solicit them.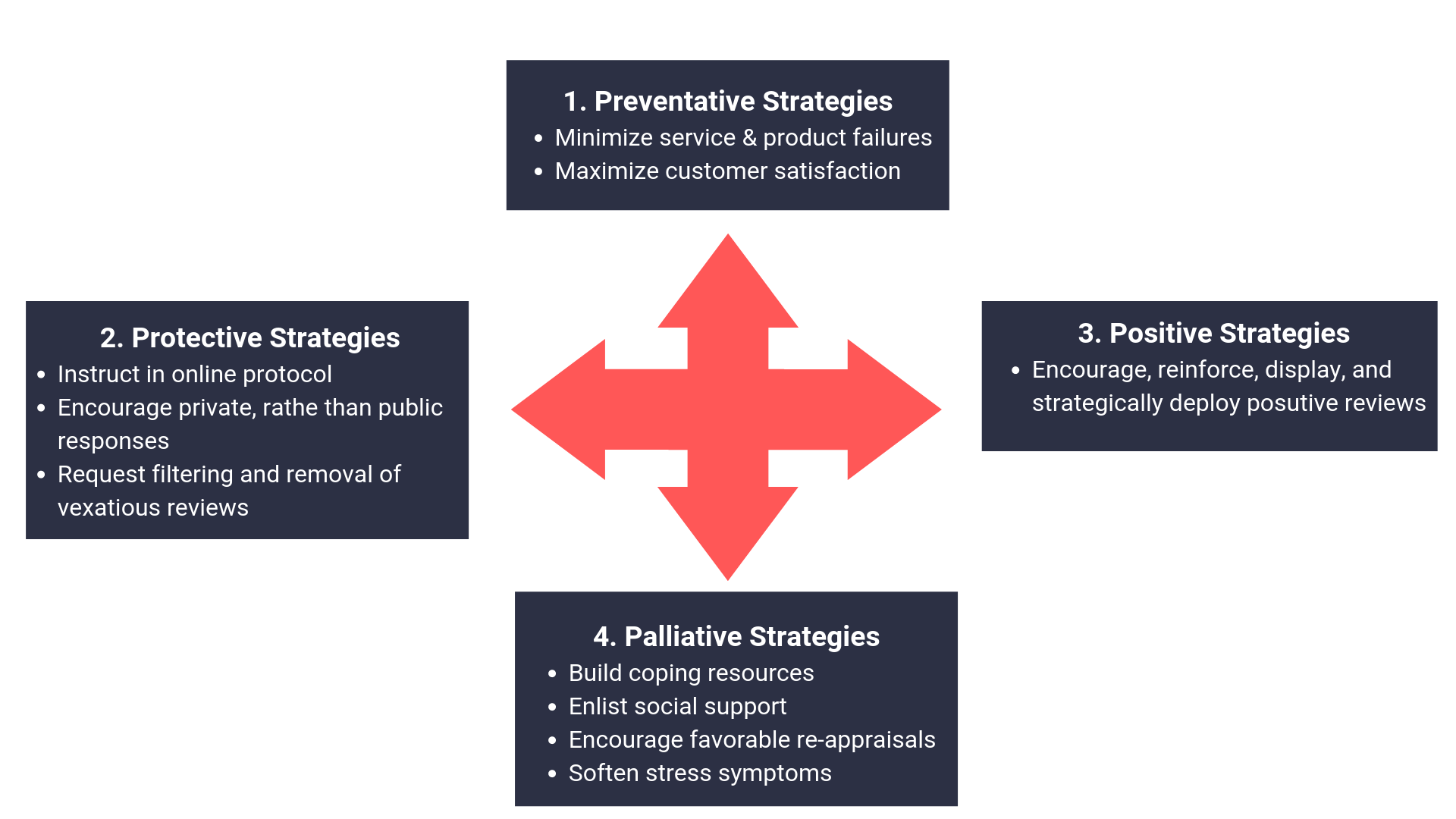 In the end, most patients would be motivated to post or submit a negative review online from what they consider to be bad "service," which is often difficult to measure in a patient encounter until it is completed. Most often patients don't understand the difference between patient care and "service" which is part of the escalating problem of expectation management.  Take for example the last patient who came in with a cyst or a lipoma, probably with a high copay or deductible, and expected it to be excised the same day because "that's what happened last time" or "nobody told me."  Wouldn't it be great to say, "sure we can cut it out right now, just go out to the waiting room and tell everyone else with appointments that they now have to wait an extra 45 minutes?" The same patient probably has a wedding that weekend or a flight to catch, making discussion about sutures, wound care, and scheduling even more difficult.  This energy and effort takes its toll on physicians as we have to constantly play defense, but the patient will be frustrated because it didn't go the way it was supposed to and will, therefore, be motivated to take that out on the doctor's office with a bad review…totally unreasonable but yet a reflection of customer service disappointment to the world around us.
Even more common are the negative reviews that come from wait times, whether in the waiting room or exam room because now 15 minutes is the new maximum that anyone will take out of the day because "their time is just as important" and "everyone's time should be respected."  I'll never forget the patient who called with an urgent problem, was worked in the same day, and had to wait about 30 minutes for a walk-in appointment.  He then left in a rage because he had a flight to catch and wrote a scathing review about the practice.  Despite the rest of the great patient encounters from that day, that negative episode sticks out because there was no way to respond.  But this is how burnout develops, the bad energy can chip away at drive and motivation if we are not careful to protect ourselves.4
One study evaluated 842 reviews that were posted about medical practices, 200 of which were further broken down for analysis, some with more than 1 comment on why a patient gave the rating they did…264 comments, comprised of 152 comments for 5-star reviews, and 112 comments for 1-star reviews.  The common factor that led to either a 5-star review or a 1-star review was not cost, knowledge, interactions with office staff, medical outcome, or even wait times…it was bedside manner.5  Therefore, despite the simplicity of this intervention such as sitting with the patient, empathy for the problem at hand, and even making them better, the risks of a negative review can hover over a patient encounter and create a defensive atmosphere.
The other problem that comes from negative reviews is the "hit and run" impact on the practice because HIPAA prevents a decent response.  Imagine responding to the patient who goes online and slams the practice for not cutting out the same day, wouldn't it be therapeutic to just say something back about being unrealistic?  But physicians not only don't do that by nature, HIPAA prevents any discussion of the patient encounter meaning all that is left is the apology tour and the negative feelings that come from what is in print.
Some of the most important prevention strategies might sound difficult for a small practice that does not have an IT department or extensive resources for reputation protection or search engine optimization, but in today's business climate these are essential for staying connected to patients and building the practice.  More importantly, the movement of social media extortion has gradually impacted healthcare…once limited to restaurants as a ploy to get free drinks and desserts to avoid a fabricated bad review, now patients are using one-star reviews not only as weapons of retaliation but also as a warning of what could happen if copays are not waived, if wait times are not reduced, or some other outcome that patients want.6
Unfortunately, competitors to businesses have grown wise to the fact that over 90% of consumers use online reviews before making any purchase.  Since 2013 that has translated to patients choosing doctors the same way, growing from 25% to 40% of patients in one year and ever increasing since, but since 2017 the issues involving fake reviews on search engines such as Google have become out of hand.  It was estimated that 267 million Facebook users were fake or duplicates and continue to remain unclear how many were involved in fake review schemes, which should serve as reminders that these include fake reviews from real accounts.  These reviews permeate all businesses and are often easily identified by lack of specific details compared to a broad complaint, or the transaction date doesn't match their complaint, or when there is a surge of bad reviews in a short period of time.7  Most importantly, if the reviewer recommended a competitor in their complaint or there is suggestion of a connection between the reviewer and a competitor, one should be suspicious of this new method of tampering.6 Dermatologists may face this from competing entities such as other physicians, spas, minute clinics, and other sources for "skincare" and "experts in skin" that might be looking for ways to attract patients away.
Strategies to handle negative reviews are much different than how to handle the fake reviews, and in either case, does putting out the fire solve or prevent burnout?  Some experts suggest contacting the reviewer directly, with the idea that if you can get people on the phone, they'll see you as a human and not a faceless business.  Taking the proper tone, one of empathy and not of either making excuses or being defensive, can shed light on a negative encounter and possibly turn a complaint into a positive review. As often discussed, even though one can technically sue someone for online defamation, lawsuits draw negative attention, and experts suggest the possible backlash from suing a "consumer" may backfire and scare off other potential patients. 5,6  However, in the business world many have taken the position of responding to the competitors' reviews openly, in essence calling them out on the content of the review to question the merit and intent with the hope of encouraging the existing base of happy customers to leave positive reviews.  Physicians often garnish the loyal support of happy patients but it is not customary to solicit or encourage reviews. However, when patients notice, they often come to the defense of their doctor…many of mine did when they saw the review left by the walk-in patient and responded online instead.  The take-home message here is to make sure you have access to all of your social media and review site profiles and listings, as well as reference any false claims to the site's resources.  As quoted in the article, "if a fake reviews crisis happens before these are done, there will be more work to do before getting the situation resolved."
In summary, small practices don't have IT departments, lawyers on retainer, or systems in place for constant trolling. There's a difference between working the system (i.e. asking patients to review you) and gaming the system (posting fake reviews yourself, etc.). Failing to work the system likely means that you're going to get your clock cleaned by inferior practices that play the game better.
References
http://www.physicianspractice.com/difficult-patients/dont-let-patients-take-advantage-your-medical-practice#sthash.ShlGGbU4.dpuf
Beverley Anne Sparks, "The stress of anonymous online reviews: A conceptual model and research agenda," International Journal of Contemporary Hospitality Management, 27(5):739-755 · July 2015
Amerikani, "7 Small Things that can ruin your day"
Shemirani, NL, and Castrillon, J, "Negative and Positive Online Patient Reviews of Physicians—1 vs 5 Stars," JAMA Facial Plast Surg. 2017 Sep; 19(5): 435–436, Published online 2017 Jan 26. doi: 0.1001/jamafacial.2016.2039
Ryan Erskine, Forbes Online, May 15, 2018, 09:06am; "You Just Got Attacked By Fake 1-Star Reviews. Now What?"
"How to Remove a Bad Google Review (and Flag Fake Ones): https://www.reputationmanagement.com/blog/how-to-remove-google-reviews/JONAS SICKLER AUGUST 9, 2018 UPDATED NOVEMBER 18"
The Many Faces of Burnout – Living the Dream
The Many Faces of Burnout – The Opposite of Burnout
The Many Faces of Burnout – Back to Basics: How to Regain Joy in Practicing Dermatology