Owning and operating a solo dermatology practice may seem like a business model going the way of the dinosaur, especially with the growing trend of private equity ownership. Yet one early-career dermatologist is embracing practice ownership, and finding a way to open a practice shortly after completing dermatology training.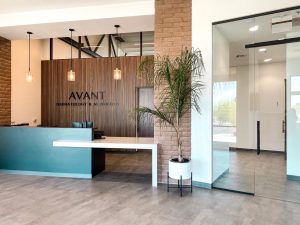 Sheila Farhang, MD, completed a dual Mohs and cosmetic surgery fellowship in 2019 and opened Avant Dermatology & Aesthetics in Oro Valley, Ariz., about a year later. She says she always wanted to open a practice. "I wanted to bring the 'local independent' feel to doctor's offices versus what may be seen or experienced with larger corporate offices."
Dr. Farhang said the first step in opening her practice was creating a vision. "I wanted to provide general dermatology, cosmetics, Mohs surgery, and integrative dermatology all in one boutique-style medical practice," she said. "I thought of the name 'Avant,' which means innovative or forward-thinking."
Building from that vision, Dr. Farhang was very involved in the year-long process – from designing her office space to hiring staff to marketing the practice in advance. "There were definitely some rough patches but you work through them," she said. "COVID did cause about a two-month construction delay, which in the grand scheme of things could have been much worse."
In addition to overseeing all the necessary steps to open a practice, Dr. Farhang knew she would need two key resources: capital and experience. Dr. Farhang worked for seven months as a locum tenens Mohs surgeon. Every week she flew across the country to work at a dermatology practice until the COVID-19 pandemic shutdown in March 2020.
"It helped me figure how I want to set my Mohs protocols and lab at my own practice since I've seen so many ways and saw what worked best and what didn't," said Dr. Farhang. "It also tremendously helped with the financial burden of opening a practice right out of training."
Dr. Farhang recommends working locum tenens or part-time in a dermatology practice until about two months before opening your own practice. Dr. Farhang still works as a Mohs surgeon in another city four days a month as an independent contractor even though Avant Dermatology & Aesthetics is up and running. "This helps me generate income since I know it could take a year before my practice is profitable," she said.
Dr. Farhang said her fellowship – a dermatology practice affiliated with academia – helped her the most in preparing for practice ownership. "My fellowship directors were so great in mentoring me with the business side of things," she said. "Otherwise, there isn't much preparation you can do during residency and most fellowships – you have to learn along the way."
Dr. Farhang has advice to those who want to follow in her footsteps: "Plan accordingly and budget. If it's something you are willing to commit to, go for it. It is a lot of work day in and day out but worth it in the end."
Her work is already paying off. More than 20,000 local newspaper readers recently ranked Avant Dermatology & Aesthetics as a top dermatology/plastic surgery practice in the area, and Dr. Farhang ranked best doctor and healthcare hero. She was also featured as one of Tucson Lifestyle's Exceptional Women in Medicine.
Did you enjoy this article? You can find more on