New Technologies, Emerging Therapies, and the Art of Communicating Complex Medical Procedures to Patients
We are excited to announce another installment of our recurring series: Ask a Mentor. In this monthly segment, we identify an accomplished mentor in the field of Dermatology to answer your questions about career development and their unique areas of expertise.
If you have questions on new technologies, emerging therapies, the art of communicating complex medical procedures to patients and developing the best bedside manners, be sure to submit your questions for our Mentor of the Month, Dr. Jeremy A. Brauer, by emailing us at: [email protected] by November 23, 2018.
About Dr. Jeremy A. Brauer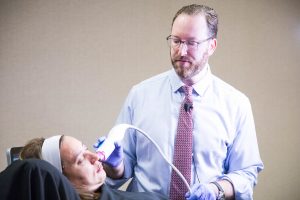 Jeremy A. Brauer, MD is an internationally recognized dermatologist with board certification and fellowship training in laser and Mohs micrographic surgery. Dr. Brauer graduated as a Merrill Presidential Scholar with Highest Distinction from Cornell University and earned his medical degree from the University of Pennsylvania School of Medicine. He served as chief resident of the Ronald O. Perelman Department of Dermatology at New York University Langone Medical Center and was awarded the Morris Leider Award for Excellence in Dermatology. He then completed a two-year fellowship in Mohs micrographic surgery, laser surgery and clinical research at the Laser & Skin Surgery Center of New York.
Dr. Brauer is sought after by media for his expertise and his down to earth way of communicating medical procedures; He has been featured on CBS News, Fox News, Extra, GQ Magazine, Reader's Digest, and Buzzfeed discussing tattoo removal, injectables and laser treatment of scarring. Dr. Brauer has presented nationally and internationally on his extensive research efforts and his scientific work has been published in numerous peer-reviewed journals. He is a member of the American Academy of Dermatology, American Society for Dermatologic Surgery, American Society for Laser Medicine and Surgery, and the American College of Mohs surgery.
Dr. Brauer is currently in private practice in Manhattan and Rye, New York, and affiliated with the Ronald O. Perelman Department of Dermatology and NYU Langone Medical Center.
Did you enjoy this post? Find more articles on Career Development by clicking here