Derm In-Review Advisory Council Member, Dr. Ramya Kollipara, searched dermatology journals so that you don't have to! She reports on important take-aways from different medical journals for the months of April, May, and June of 2018.  Find study tools and more like this at Derm In-Review.
It is key to keep in mind that "important" is subjective and what is contained in this review is one person's opinion.
Best of April 2018
Association Between HLA-B*1301and Dapsone-Induced Cutaneous Adverse Drug Reactions.
Tangamornsuksan et al. JAMA Dermatol 2018;154(4):441-46.
HLA-B*1301 is associated with dapsone-induced cutaneous adverse reactions and genetic screening for this allele may be warranted prior to starting dapsone.
https://jamanetwork.com/journals/jamadermatology/article-abstract/2674263
Hydrochlorothiazide use and risk of nonmelanoma skin cancer: A nationwide case-control study from Denmark.
Pederson et al. JAAD 2018;78(4):673-81.
High use of hydrochlorothiazide was associated with increased odds ratio for SCC and BCC. Use of other antihypertensives and diuretics was not associated with NMSC.
Highesthttps://www.jaad.org/article/S0190-9622(17)32741-X/fulltext
Statin use and risk of skin cancer.
Lin et al. JAAD 2018;78(4):682-93.
Long duration of statin use was associated with increased rates of BCC in men.
https://www.jaad.org/article/S0190-9622(17)32749-4/fulltext
An Acne Survey from the World's Largest Annual Gathering of Twins.
Suggs et al. JDD 2018;17(4).
Identical twin pairs with acne had a higher BMI, exercise less. The twin with more severe acne was more likely to have an acne exacerbation with cosmetic products use and sugar intake. http://jddonline.com/articles/dermatology/S1545961618P0380X/1
Nonmelanoma Skin Cancer Risk in Patients With Inflammatory Bowel Disease Undergoing Thiopurine Therapy: A Systematic Review of the Literature.
Hagen et al. Dermatologic Surgery 2018;44(4):469-80.
Patients with IBD who are on thiopurines have a moderately increased risk of NMSC. Risk is increased with increased therapy duration. Risk of NMSC may return to baseline after discontinuing thiopurine therapy. Younger patients on therapy have a higher risk of NMSC. https://journals.lww.com/dermatologicsurgery/Abstract/2018/04000/Nonmelanoma_Skin_Cancer_Risk_in_Patients_With.1.aspx
Best of May 2018
Association of Hidradenitis Suppurativa With T Helper 1/T Helper 17 Phenotypes.
Jafari et al. JAMA Dermatol 2018;154(5):592-95.
HS may be a TH1/TH17 driven inflammatory skin disease. https://jamanetwork.com/journals/jamadermatology/article-abstract/2676938 
Mitotic rate is associated with positive lymph nodes in patients with thin melanomas.
Wheless et al. JAAD 2018;78(5):935-41.
There is a strong linear relationship between mitotic rate and odds of having a positive lymph node. There is a 19% increased risk of positive node with every 1 pint increase in mitotic rate. Cases with negative nodes were associated with mean mitotic rate of 1.54 +/- 2.07 mitoses/mm2 versus 3.3 +/- 3.54 mitoses/mm2 in cases of positive nodes.
https://www.jaad.org/article/S0190-9622(17)32740-8/fulltext
Prognostic value of sentinel lymph node biopsy according to Breslow thickness for cutaneous melanoma.
Stiegal et al. JAAD 2018; 78(5):942-48.
A negative sentinel lymph node status does to demonstrate a statistically significant survival advantage for any of the breslow thickness subgroups. SLN status does not provide independent prognostic ability over that of breslow thickness only.
https://www.jaad.org/article/S0190-9622(18)30149-X/fulltext
Nonbullous pemphigoid: A systematic review.
Lamberts et al. JAAD 2018;78(5):989-995.
Nonbullous pemphigoid is characterized by erythematous, urticarial plaques, and papules/nodules. Histopathology in most cases was nonspecific. DIF in 93% of cases showed liner IgG and C3 at the basement membrane.
https://www.jaad.org/article/S0190-9622(17)32593-8/fulltext
Best of June 2018
Association of Nodal Metastasis and Mortality With Vermilion vs Cutaneous Lip Location in Cutaneous Squamous Cell Carcinoma of the Lip.
Wang et al. JAMA Dermatl 2018; 154(6):701-707.
The risk of nodal metastasis is 5-fold higher for SCC on the vermillion lip versus cutaneous lip. Risk of nodal metastasis with cutaneous lip SCC is the same as risk with all cutaneous SCCs (1.5%). Radiologic nodal staging may be warranted for vermillion lip SCCs. https://jamanetwork.com/journals/jamadermatology/article-abstract/2679050
Risk of venous thromboembolism in patients with mycosis fungoides and parapsoriasis: A Danish nationwide population-based cohort study.
Lindahl et al. JAAD 2018;78(6):1077-83.
The 10-year absolute risk for VTE was 3.4% in patients with MF. After the first 5 years of diagnosis with MF, RR of PE increased by 6.7 fold. Patients with parapsoriasis had a 2.7-fold increased RR of VTE.
https://www.jaad.org/article/S0190-9622(17)32742-1/fulltext
Dipeptidyl peptidase IV inhibitors, a risk factor for bullous pemphigoid: Retrospective multicenter case-control study from France and Switzerland.
Benzaquen et al. JAAD 2018;78(6):1090-96.
DPP4 inhibitors, especially vildagliptin, are associated with increased risk of developing BP. Males and patients older than 80 years are more at risk. Typically, DPP4 inhibitor withdrawal and initiation of first line treatment for BP lead to clinical remission.
https://www.jaad.org/article/S0190-9622(17)32878-5/fulltext
Diagnosis and management of peristomal pyoderma gangrenosum: A systematic review.
Afifi et al. JAAD 2018; 78(6):1195-1204.
Clinical features of peristomal pyoderma gangrenosum include painful, rapidly progressing ulcer with undermined violaceous border. Patients have a history of ostomy leakage, skin irritation or trauma. Treatment involves systemic steroids as first line. Surgical stoma closure and resection of active IBD can be effective as well.
https://www.jaad.org/article/S0190-9622(17)32889-X/fulltext
Bonus Picks from the JDD
Hand-picked by Dr. Adam Friedman, Senior Editor of Derm-In Review (part of ODAC's "Journal of Drugs in Dermatology (JDD): A Year in Review" lecture)
April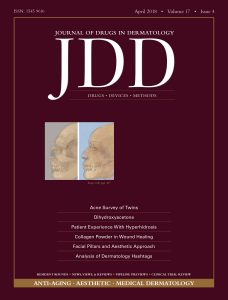 Understanding Patient Experience With Hyperhidrosis: A National Survey of 1,985 Patients
Glasser et al. JDD 2018;17(4).
Survey of 1,985 self-identified as having excessive sweating
18% of survey respondents reported an immediate family member with excessive sweating
9% reported waiting 10 or more years prior to seeking medical help

0% waited at least 3 years.

Respondents who received treatment for hyperhidrosis most satisfied with injections

Least satisfied with prescription and over-the-counter antiperspirants.
May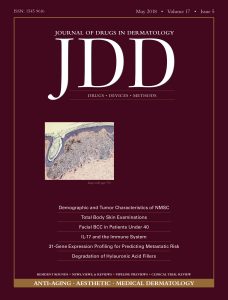 Dermatologist Practices During Total Body Skin Examinations: A Survey Study
Rieder et al. JDD 2018;17(5)
Compared to M dermatologists, F dermatologists reported more frequently examining:

the scalp (P<0.001)
interdigital spaces (P< 0.001)
cutaneous lips (P=0.015)
nails (P=0.001)

Practitioners reported utilizing chaperones infrequently
June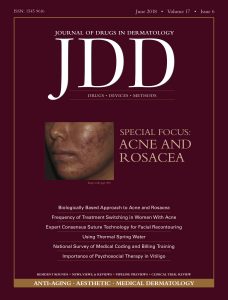 Frequency of Treatment Switching for Spironolactone Compared to Oral Tetracycline-Class Antibiotics for Women With Acne: A Retrospective Cohort Study 2010-2016
Barbieri et al. JDD 2018;17(6).
Among women with acne who were started on spironolactone, 14.4% were prescribed a different systemic agent within one year, compared with 13.4% started on an oral tetracycline-class antibiotic. Suggesting equally as effective? 
Stay tuned for the next delivery of our Journal Review Series: April, May & June 2018!
Did you miss the January, February & March review? Find it here.