EPI Health has graciously supported the COVID-19 News and Resource Center.
On April 22nd, 2020, the Journal of Drugs in Dermatology, Derm In-Review, and the George Washington School of Medicine and Health Sciences hosted a live webinar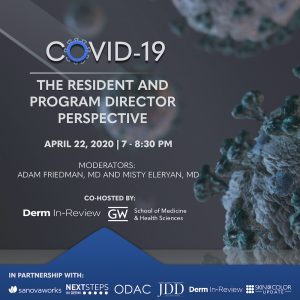 to answer resident concerns during the global coronavirus pandemic. The webinar was moderated by Dr. Adam Friedman, Professor and Interim Chair of Dermatology at GW and Misty Eleryan, MD, Chief Dermatology Resident at GW. Panelists and special guests included Erin Mathes, MD, Program Director, UCSF School of Medicine, Michael Waul, MD, Chief Resident, UCSF School of Medicine, Courtney Reynolds Schadt, MD, Program Director, University of Louisville School of Medicine, Meg Wetzel, MD, Chief Resident, University of Louisville School of Medicine, Sarah Robinson, MD, Associate Program Director, Tufts University School of Medicine, Brooke Rothstein, MD, Chief Resident, Tufts University School of Medicine, Holly Kerr, MD, Program Director, Henry Ford Health System, Angad Chadha, MD, Chief Resident, Henry Ford Health System, Emily Hejazi, MD, Resident, Albert Einstein College of Medicine/Montefiore Medical Center, and Kim Campbell, Founder of Dermatology Authority.
This article highlights the impact of COVID-19 on dermatology residency, including:
The board exams
Didactics
Clinical education
Wellness 
The discussion began with the American Board of Dermatology's (ABD) decision to continue to hold the boards in Tampa in July while offering an alternative date in December. Clearly, there was a lot of anxiety and stress regarding this decision amongst the panelist and audience. Notably, this year's graduating class of residents had already gone through several changes in the past regarding their board exams. They were initially slated to take the "boards of the future," which consist of four CORE exams and one APPLIED exam, but were then changed back to the current format last year. This, on top of the current situation regarding the boards, is adding to the already high-stress load of these residents. The board's decision regarding testing dates seemed unpopular, with many panelists expressing concern about the safety of hundreds of residents traveling to Tampa in a time when COVID-19 may still be peaking.
Some alternatives that were suggested include remote proctoring of the board exams at each resident's home institution. Another option would be for graduating residents to take the boards of the future in lieu of the current system. However, some disliked this idea as there was concern that having to take multiple exams on different days may delay board certification even further.
Overall, we recognize that this is an incredibly complicated situation and the ABD is in a difficult position. The overall goal of the ABD is to maintain the status of being a "board-certified dermatologist," and while their current conservative approach echoes this, there are certainly a lot of other factors to consider. We hope that ongoing discussions on this subject continue so that a better solution to the board exams can be found.
Another important topic that was discussed was how didactics and resident education has changed with COVID-19. Many programs were forced to make significant changes to their curriculum due to the pandemic. Many felt that their didactics have improved since moving everything to a virtual format through video conference applications. This has been especially important for programs with residents at different sites, as it cut down on travel time and helped to improve attendance. The overall consensus was that these changes have improved the quality of didactics. Residents have more time to prepare beforehand, and both residents and faculty have been eager to step up and provide quality didactic material. Furthermore, there is more flexibility with time and more chances to schedule additional lectures.
The second positive takeaway on the education side has been learning teledermatology. Most predict teledermatology will be increasingly more important once things return to normal given the overwhelming positive patient feedback. One program director talked about how teledermatology is like approaching a Kodachrome. Faculty can still educate residents by instructing them to focus on the morphology, much like looking at a Kodachrome image.
The most notable disadvantage that everyone seemed to agree upon is less time in clinic for hands-on training and education. Many programs have shut down all surgeries and elective procedures. They pointed out that while teledermatology and Kodachromes are important to education, nothing can replace live patient visits and the educational experience that it provides. Dr. Friedman talked about how he tries to keep his clinics as close to normal as possible. He has each of his residents take their own room and seeing their own telehealth patients. He is then able to alternate staffing and education with each of them as the patient encounter concludes. This allows him to see close to his typical volume of patients and provide a sense of normalcy. Furthermore, he finds that he is still able to provide a lot of quality hands-on education.
An additional disadvantage discussed is the decreased amount of networking opportunities. In a small field like dermatology, networking is very important for academic and career advancement. With social distancing, it is much harder to find mentors and collaborators. Panelists emphasized the importance of attending as many events as possible given the decreased opportunity with COVID-19.
One of the prevailing themes of this discussion was wellness and finding the silver linings in this tough situation we are in. Shelley Tanner, CEO and President of Sanovaworks, noted the common word amongst many seemed to be "anxiety." She said that she finds meditation to be helpful for her and encouraged other to find ways to move their mind from an anxious state to a less anxious one, a process that usually helps change one's perception of the world. She talked about the importance of looking for silver linings, finding what one is grateful for, and thinking of the kindness in others.
Many of the panelists talked about the silver linings that they found during COVID-19. Many found this situation gave them more time to reflect, be introspective, and spend time with their loved ones. It gave them the opportunity to think about what was important to them and how to deliver proper care to their patients who need it most. The past few weeks also emphasized the importance of empathy, resilience, and leadership, and it has helped the best come out of us as physicians. Finally, a chief resident mentioned that it helped co-residents get closer and know each other in a more intimate and personal way. This situation will help redefine our field and how education will be done, as it forced us to utilize the tools we have.
Overall, this discussion highlighted the monumental impact COVID-19 has on dermatology and residency training and its effects will continue to influence how our field develops. As the pandemic continues to develop, we will continue to monitor and discuss the situation to see how it plays out for our field.
You can watch this webinar on-demand here.
Did you enjoy this article? Find more on COVID-19 here.