The path to becoming a dermatologist is challenging—from years of school, residency, research to ultimately creating a career. But post-residency paralysis could prevent you from knowing what to do with your career. Instead, hear from our experts at ODAC 2023 on general advice for your next steps following residency and more specific pathways, including:
Academic Dermatology
Fellowship
Private Practice
Locum Tenens
General Advice
Dr. Kalyani Marathe, Associate Professor of Dermatology and Pediatrics in Cincinnati, covered some key pieces of advice to ensure that you have a successful residency and prepare yourself for your future career.
Money is not the goal: Money should not be the primary goal in joining a practice. Many practices may have more income than others but there are often drawbacks to those as well. For instance, some practices may pay a lot of money but may have a very large non-compete area, which could limit you if you choose to leave the practice at some point in the future. One way to be judicious with money during residency, so you don't face these issues after, is to make payments on your loans. By doing so, you reduce the larger payments that are expected when you're making an attending salary.
Develop your skills early: Many institutions offer professional coaching as a part of their benefits to their employees. In academics, this may even be part of a promotions process at the institution. Keep diligent records and get leadership training to develop your own skills. Ensure that these support systems are written in to your contracts explicitly.
Get everything in writing: Your time should be documented. Even something as simple as what clinic space you'll work in or what site you want to work at should be written in your offer letter or contract so that it is explicitly clear. That also means that time you're expected to have for research, informatics, or your various leadership roles should be protected in writing so that you're able to accomplish these tasks successfully.
Academic Medicine
Many residents have extensive experience with academic dermatology, as this is the most obvious place where training is to occur. However, consider that there are multiple pros and cons in a career in academic dermatology that should be considered. Here are some pros and cons covered by Dr. Adam Friedman, Professor, Chair, and Residency Program Director at the George Washington University Department of Dermatology.
Table 1: Pros and Cons of Academic Medicine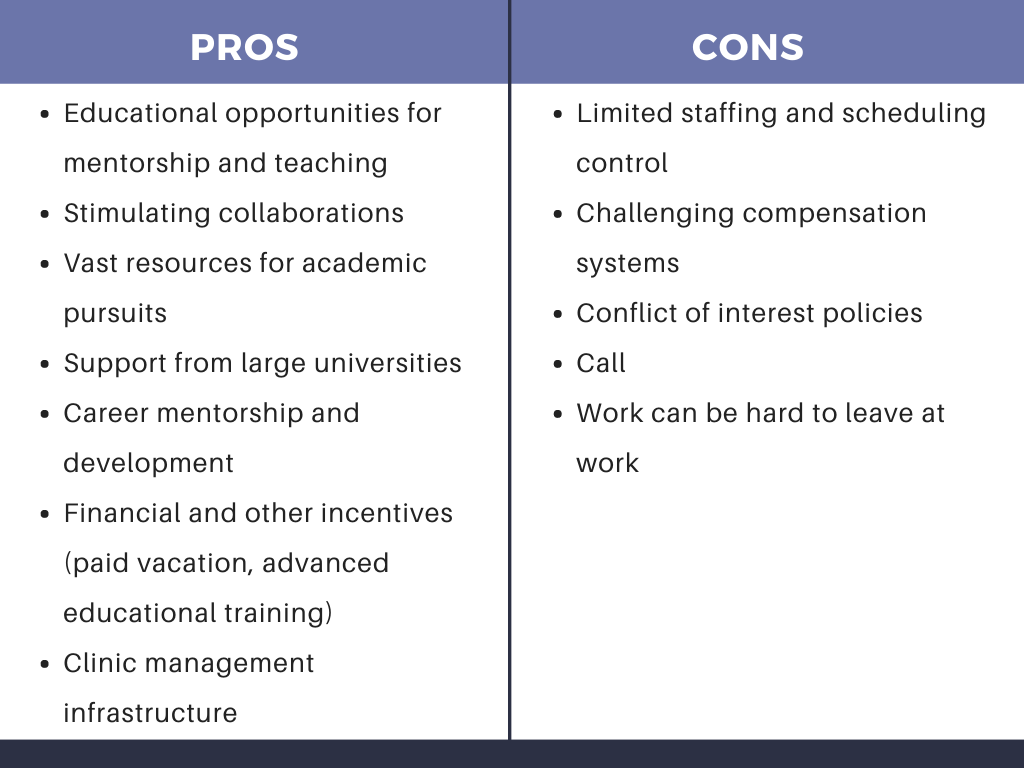 One of the key points we noted is that teaching and interdisciplinary collaboration often culminate in travel and work with partners elsewhere, so if that is of interest to you, academics may be in your future. Moreover, becoming a key opinion or thought leader often can stem from work in academics, though this is not limited to this setting. Consider these pros and cons as you deliberate a career in academic dermatology.
Private Practice
If academic dermatology is not for you, Dr. Terrence Keaney, Founder and Director of SkinDC discussed the pros and cons of starting a private practice.
Pros: Control over your schedule, staff, practice mix, and long-term financial independence.
You can earn money and reinvest that into your own business, allowing it to grow more wealth for you. This income stream system can set you up for financial success. Don't forget that as a private practice you can also be academic adjacent and work with learners too.
Cons: You become the clinician and the business manager, which imposes a lot of work on you to run a business and see patients at the same time. This entails human resources work, unpredictability, and decision fatigue.
Tip: If you're joining a private practice and you're asked to manage mid-levels, make sure you ask what the process is for oversight, such as if the mid-levels are onsite and how much independence is expected.
Fellowship
Dr. Blair Allais, Cutaneous Oncology Fellow at Brigham and Women's Hospital, detailed the many options for fellowship that exist after dermatology residency.
Traditional pathways: Dermatopathology, pediatric dermatology, Mohs micrographic surgery, and cosmetic dermatology
Creative pathways: Complex medical dermatology, cutaneous oncology, rheumatology/dermatology, patch testing, research, clinical education, itch
The pros highlighted are: additional training, access to further resources, confidence in negotiating power, and further leadership and teaching training. However, some of the drawbacks may include postponing your attending salary or imposing geographic limitations based on where your fellowship is.
Tip: Pursuing a fellowship is an easy way to get involved with industry, such as cutting-edge clinical trials, which allows you access to a broad compendium of mentors.
Locum Tenens/Private Practice
if you're unsure of an exact model you want to practice in, you can always consider locum tenens. Locum tenens allows for the benefit of working at several different practices to figure out which practice model or style works best for you. Dr. DiAnne Davis, who is in private practice in Dallas, TX, talked to us about how scary it was to get her first assignment, where she was working two weeks on and two weeks off. But the major pro here is flexibility. You could live in one city where (your "home base") while working at another city that you travel to for locum tenens work. Often, the pay scheme may be even better in areas that are underserved. However, there is the drawback that you may not get established with one clinic in particular and there may be a significant amount of travel and adjustment required since each system may be different.
Tip: If you have the travel bug and love engaging with new environments, locum tenens offers a lot of benefits as a main or side gig.
Hopefully you feel well-informed about different career pathways after residency and are prepared to take on the world without any paralysis.
Did you enjoy this article? Find more on Navigating Residency here.